AstroPrint hopes to simplify 3D printing for the masses, launches the Touch on Kickstarter and smashes the funding goal in just three hours. 
AstroPrint is a San Diego company attempting to make 3D printing more accessible for the masses. They offer a cloud platform for consumer 3D printing.
Yesterday, their second Kickstarter campaign was launched. They are offering the AstroBox Touch which is "a simple, powerful touchscreen that is wireless, cloud connected, and infinitely extensible with apps."
Amazingly, in just three hours, they had smashed the funding goal. However, this is a running theme for the company as their previous Kickstarter also reached it's funding goal in just one day back in 2014.
Drew Taylor, Co-Founder, and CEO of AstroPrint, explains:
"Since our last Kickstarter, our users have 3D Printed over half a million hours on our platform – that's almost 60 years of 3D Printing! This campaign, for the AstroBox Touch, is the result of over 3+ years of direct feedback from this amazing community. We are really excited to play a part in simplifying 3D Printing for the masses. "
The Touch was developed to encourage more people to begin utilising 3D printing technologies. The team hope to make the technology less scary and more accessible. Currently, the AstroBox Touch is compatible with around 80% of desktop 3D printers.
Features of the AstroBox Touch
Daniel Arroyo, Co-Founder, and CTO of AstroPrint, explains: "Without quality content, 3D Printers are just giant, useless, paper weights. The Touch is a device that gives unparalleled distribution power to third party application developers and content creators."
The Touch features; a 3.5″ touchscreen, wireless control of your 3D printer and connection to the AstroPrint ecosystem. Also, Raspberry Pi powers the Touch and, even better, there is no need for self-assembly. All you need to do is plug it into your 3D printer.
However, that's not all the company has to offer. As well as the Touch, AstroPrint has also released a suite of cross-platform desktop applications.
These include mobile apps for both iOS and Android. Also, on offer is a developer API in beta. Developers will be able to reach other 3D printer owners and begin distributing their applications.
Arroyo continues: "We believe that The Touch is the most effective way to reach home 3D Printer owners at scale as the industry yearns for a disruptive killer application. Since Touch owners will have limitless options to extend its capabilities by tapping into the creativity of developers and content creators, each Touch will be a fully customized reflection of its owner. We are taking the industry from flip phones to smartphones."
Find out more information on the Kickstarter Campaign. You've missed the early bird option, however, pledge $125 of more for the basic package. This includes; an AstroBox, case, accessories, and lifetime Pro Plan.
So far, 264 backers have pledged $33,309 of the $10,000 goal. However, this is increasing by the minute.
Source: Press Release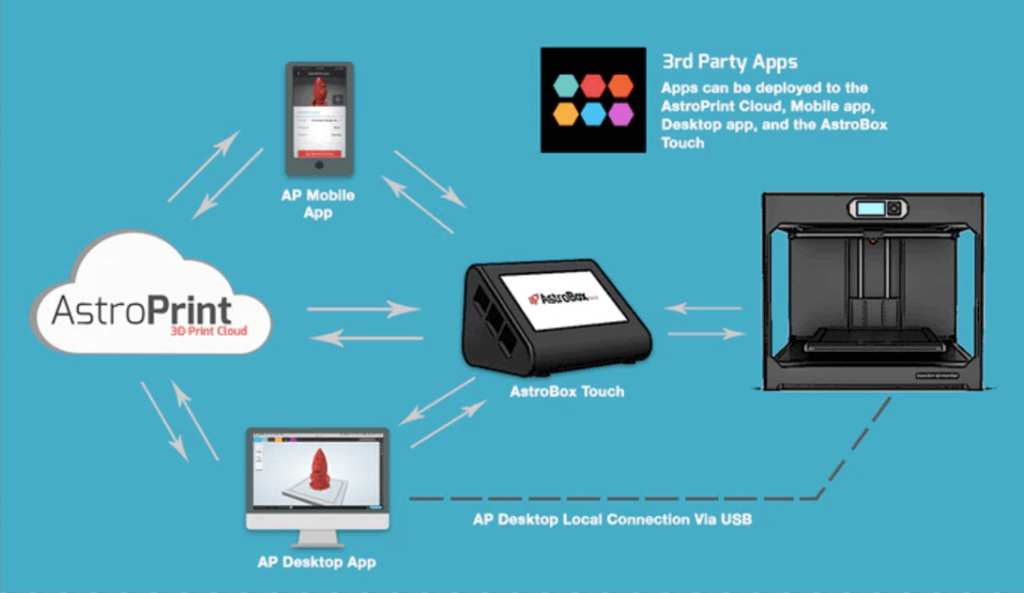 License: The text of "AstroBox Touch Smashes Kickstarter Funding Goal in Just 3 Hours" by All3DP is licensed under a Creative Commons Attribution 4.0 International License.
Subscribe to updates from All3DP
You are subscribed to updates from All3DP
Subscribe
You can't subscribe to updates from All3DP. Learn more…