Creative agency Viget uses 3D printing to create Lightwalk, a programmable, interactive LED array that reacts to passers-by, rain or 'shine, on the Abilene Christian University campus.
Abilene Christian University, Texas, has a new and unique way to guide students and bring light to the darkness. On campus, students traversing the quad will now find a "Lightwalk" brightening their path.
The Lightwalk was designed by Viget, an interactive agency that plans, designs and builds intriguing concepts with digital elements. Based across the USA (with outposts in three states) Viget's commission from the university was to merge creativity with technology in a manner that engages the institution's community.
Sitting alongside a path that carves through the quad, the final installation consists of 350 interactive LED reeds. Alongside the physical development of the Lightwalk, Viget also produced a web app. This additional development gives students at the University a practical installation on campus to program for and enrich knowledge regarding the Internet of Things.
With just two months to execute Lightwalk, it used 3D printing to create the huge custom art installation.
"We choose LulzBot because the Mini and TAZ printers can produce production-ready components even while running twenty-four hours a day, seven days a week. The parts we produce satisfy two needs: quick turn, production ready parts, and low-volume, cost effective parts as an alternative to rapid injection-molding," said Justin Sinichko, hardware developer at Viget's Boulder, Colorado, USA office.
3D Printing Lights the Way
The brains of the reeds lie in the earth beneath them as a series of nodes. These supply power and processes data. So, when a passerby triggers the display's sensors they can enjoy a show.
With the lights running through campus, a concern was how to protect them from the unique demands of college life. The reeds needed to be durable enough to withstand pranksters, while also being able to endure any weather.
To solve this particular issue Viget fabricated durable enclosures on the Lulzbot machines. In addition, the agency 3D printed numerous other parts required for the construction. With several dual-extrusion Lulzbot 3D printers running around the clock, they avoid the need for vacuum formed plastic parts that would otherwise be necessary for the project.
Speaking of the benefit the printers brought to the project, Sinichko said "We're able to design very specific solutions that can be implemented in real-time and alongside a natural product development cycle".
Source: Lulzbot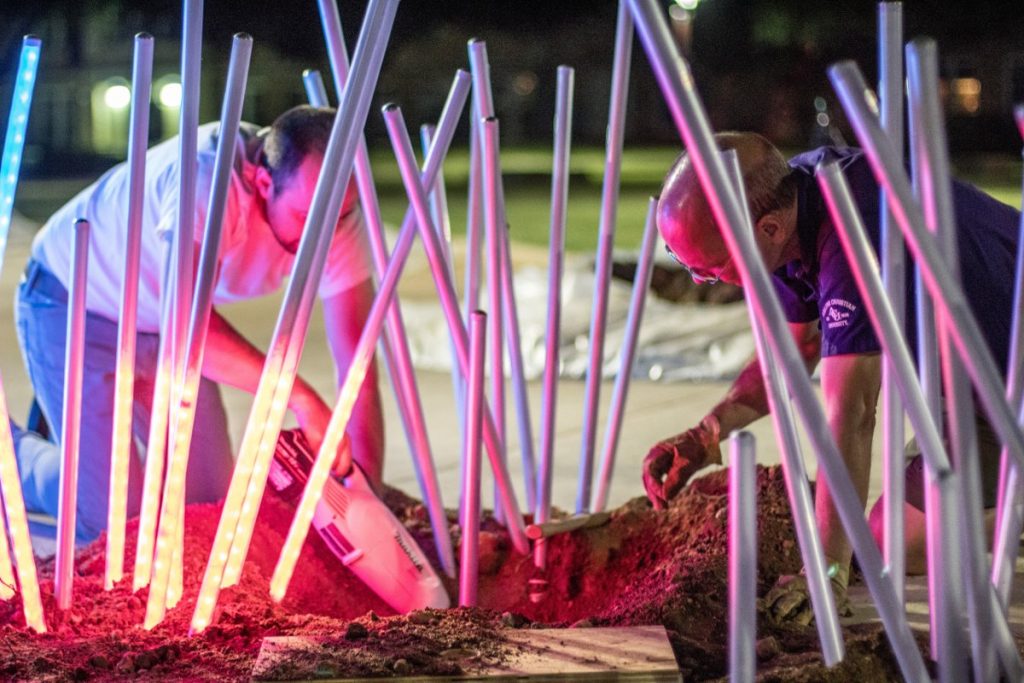 License: The text of "Hypnotic Texas University Lighting Made with Lulzbot 3D Printers" by All3DP is licensed under a Creative Commons Attribution 4.0 International License.
Subscribe to updates from All3DP
You are subscribed to updates from All3DP
Subscribe
You can't subscribe to updates from All3DP. Learn more…