Ability3D has created a metal desktop 3D printer that combines a router and welder. At a price as low as $3000, this could be a real game-changer.
One of the obstacles holding desktop 3D printing technology back from fully blossoming is the lack of material options available outside of polymers. But the Florida-based 3D printing startup Ability3D looks to be breaking these boundaries with their metal desktop 3D printer concept.
To get an idea of how this printer works, let's first set the record straight: Ability3D's 888 metal 3D printer is not your ordinary desktop machine. In order to make the printer compatible with metal materials, the company combined a welder and router into their 3D printing concept. The printer is essentially a MLG welder equipped with a CNC milling component, allowing it operate as both additive and subtractive manufacturing technology.
First, the welding machine is loaded with either aluminum, steel, or stainless steel wire, which is laid down on the print bed with relatively low layers resolution. After that, the router component is utilized to refine the layers and achieve high-resolution prints. This metal production technique has existed in manufacturing for quite some time but hasn't ever been readily available on the consumer market due to the high price.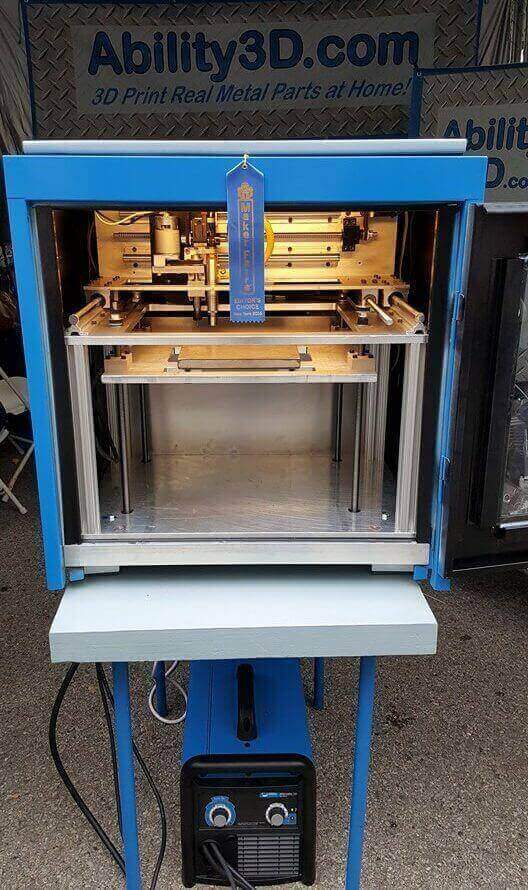 3D Print Metal at Home: Under $3000, Soon on Kickstarter
The key to Ability3D's process is the metal MIG welding wire material, which provides the strength, durability, and hardness of traditional metal parts. The 888 printer is equipped with a trimming tool that works with wood, plastic materials, and engraving circuit boards.
Additionally, the metal 3D printer also includes a plastic extruder, enabling users to use it as a standard desktop printer as well. As for the build size, the 888 printer is capable of producing metal objects at up to 8 x 8 x 8 inches.
Thus far, the Ability3D team has proven their concept through their prototype machine. It was recently examined first-hand at Maker Faire Orlando in a YouTube video by Make Magazine.You'll get a chance to take a look at this metal 3D printer at CES 2017.
According to the president of Ability3D, Ben Willard, the company plans to launch a Kickstarter campaign for the metal 3D printer this coming January, which is planned to be priced under $3,000.
From the looks of the prototype, which seems to be quite functional, Ability3D may be on the forefront of affordable and high-quality metal 3D printing from the desktop device.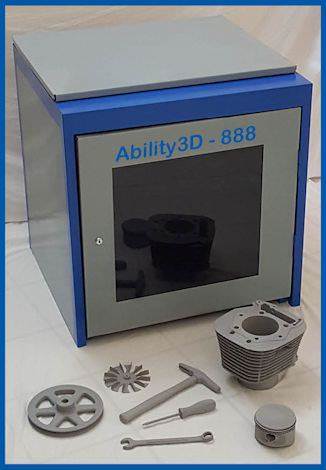 License: The text of "Ability3D's Metal Desktop 3D Printer Could Be a Game-Changer" by All3DP is licensed under a Creative Commons Attribution 4.0 International License.
Subscribe to updates from All3DP
You are subscribed to updates from All3DP
Subscribe
You can't subscribe to updates from All3DP. Learn more…