The US-based Smithsonian Institution is the world's largest museum, education, and research complex. It is made up of museums, libraries, research centers, and even a zoo. In total, the number of individual objects housed in the Smithsonian collection is over 150 million.
It would be impossible for all of these objects to be displayed physically at the same time, in fact only 1% is on show. The Smithsonian has a 5-year plan with the stated goal of expanding its reach through "the increase and diffusion of knowledge".
A group within the museum saw the part that 3D technology could play in reaching a wider audience. They have begun to digitize the collection objects as 3D scans and make them available to view as exhibits on their 3D digitization portal.
The project doesn't end there though, they are also making many of the 3D files available for download to be 3D printed. If you don't own a 3D printer, you can still use a 3D printing service.
So far the Smithsonian has released 124 models from their collection with the majority available to download and print. The scale and breadth of the museum's objects make this project really interesting. Print the Wright Flyer and the Bell X-1 to witness mankind's 44-year aviation journey from the first flight to supersonic. Or celebrate 50 years since the Apollo 11 moon landing with a print of Neil Armstrong's spacesuit.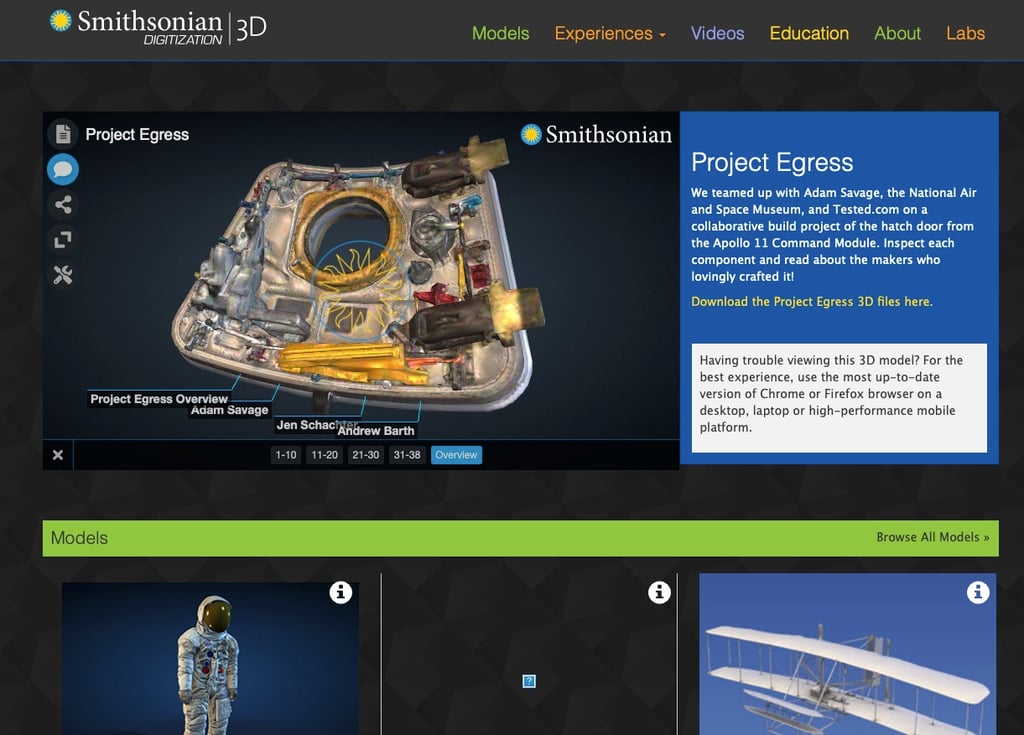 The excitement of 3D printing these museum objects at home is only part of this story. Scanning one object per minute, all day everyday would take the team over 300 years. The scale of this undertaking requires the museum to reach out to industry experts to aid them in their scanning project. The Smithsonian has already partnered with Autodesk and Google on this project in the quest to digitize their collection and advance technology in the field.
(Source: Hackaday)