OCore is an Italian start-up which hopes its "revolutionary" technology will innovate the manufacturing industry. What's revolutionary about the startup's technology is that it's a blend of additive manufacturing and robotic technology.
OCore's development of a 3D printing technology which produces large format parts has led to it completing an impressive project. Recently, at the sailing club Circolo della Vela Sicilia (CVS) in Italy, it unveiled the world's first 3D printed sailboat hull.
The directly 3D printed sailboat hull will now be used for the Mini Transat Ocean Race 2019. In order to make this a reality, the project was supported by larger companies such as Autodesk and LEHVOSS Group.
Daniele Cevola, Managing Director of OCore, said: "OCore, supported by the project partners, has developed a dedicated technology. This includes a robot, software and printing technology, including the print head. OCore succeeded in developing a material deposition system that, using the logic of a proprietary algorithm, replicates organic and morphologically complex structures. This provides lightness and resistance to a boat that could not be built in any other way."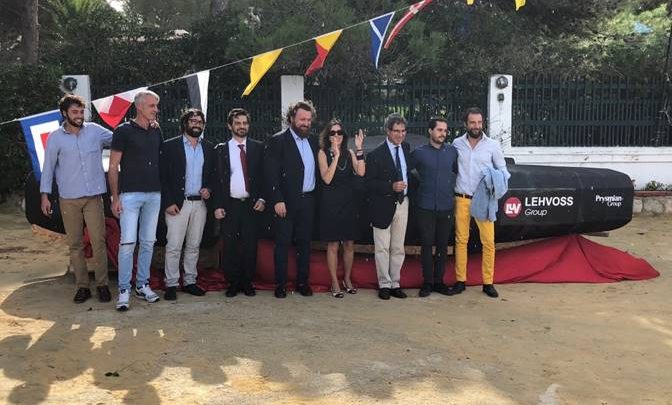 3D Printing a Sailboat Hull from Scratch
This challenging project has actually been in the works since 2014. In 2015, at Milan Design Week, Autodesk held a conference and exhibit called Arthesis and many 3D printing designers were invited.
The design studio behind OCore, called Livrea Yacht, attended. At this time, the company was working with CRP Group to develop a 3D printed sailboat prototype. Autodesk was able to help the companies turn this prototype into a reality.
OCore developed a specific 3D printing technology to develop the hull and used LEHVOSS' materials to produce the large format parts. The material used in this project is called LUVOCOM 3F PAHT CF.
It is a high-performance polyamide and is reinforced with carbon fibers making the resulting print high strength, stiff and lightweight.
All of the functional parts as well as the body of the sailboat were 3D printed and the result is a 6.5m long ocean racer. The OCore team found that 3D printing has enabled them to reduce production costs and even improved the flexibility of production.
The next stage for this project is to begin in early 2019 with sail tests. Visit the OCore website to find out more.
Source: 3D Printing Media Network