415 million people in the world have diabetes meaning they can't produce the necessary hormones to properly digest sugar. The best treatment for diabetes currently is an insulin pump or shots every few hours.
However, researchers from the Foundation for Research and Science Development in Poland have 3D printed the first ever bionic pancreas which they believe could one day be used to more effectively treat diabetes.
Dr. Wszoła, the leading scientist of this project commented: "The goal of the project is to create a functional pancreas. One that can be transplanted without major problems.''
Current pancreas transplant options come with high risks and regularly result in post-surgical complications. Furthermore, there is an organ shortage meaning transplants for many aren't even possible.
But, a bioprinted pancreas could seriously reduce the risk of rejection as it would be created using a patient's own cells. Although the scientist's work couldn't yet completely substitute a pancreas, it could restore or kickstart insulin production.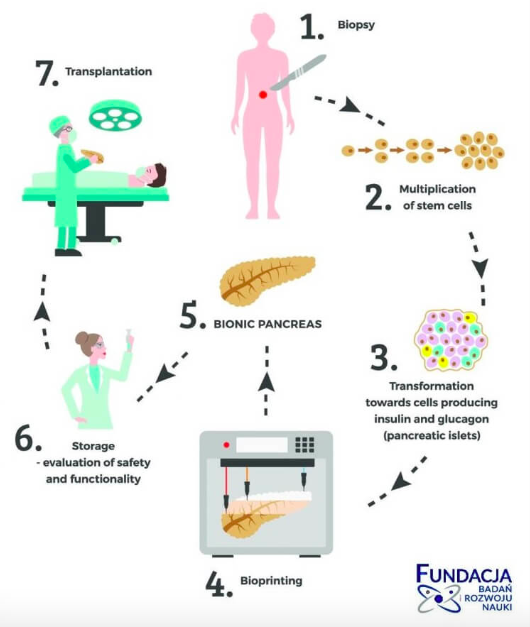 Bioprinting a Pancreas to Treat Diabetes
To develop the bioprinted pancreas, the team created a mixture of pancreatic islets from animals and bio-inks to support the 3D printed cells. The bioprinter works by having two syringes, one which displays the mixture and another which adds blood vessels.
The researcher's work proves that theoretically one day we could eliminate the need for waiting lists for organs. But, Dr. Wiszola comments that: "No one has yet founded a solid organ with full vascularisation".
The next step for the researchers is to test the bionic pancreas on mice in April 2019 and then on pigs in October 2019. This will help show how a bioprinted organ performs on a living organism.
The researchers are certain this work is a huge step towards curing diabetes and hope that one day it will be possible to print a customized bionic pancreas in hospitals.
Source: Sculpteo