Looking for some DIY decorations to make your house more haunted for the upcoming Halloween holiday? This 3D printed Halloween Skull Lamp offers a frightening light to brighten up the darkest of nights.
Designed by Taiwanese maker MingShiuan Tsai, this 3D printed lamp is the perfect addition to your ornamental ghouls and ghosts. Since the skull has a mesh design, the light from the LED bulb is splattered across the surrounding environment, creating a spooky web-like pattern.
The design is featured in MyMiniFactory's Trick or Print collection, which is full of other menacing Halloween-themed prints.   
You can also add a bit a custom flair to your 3D printed Halloween Skull Lamp, as the designer has also shared 3D models of crossing swords, a spider, and a bat. By adding one of the two creepy creatures on top of the skull, it will project their lurking shadow onto the walls or ceiling.
Let's take a closer look at this decoratively disturbing 3D printing project.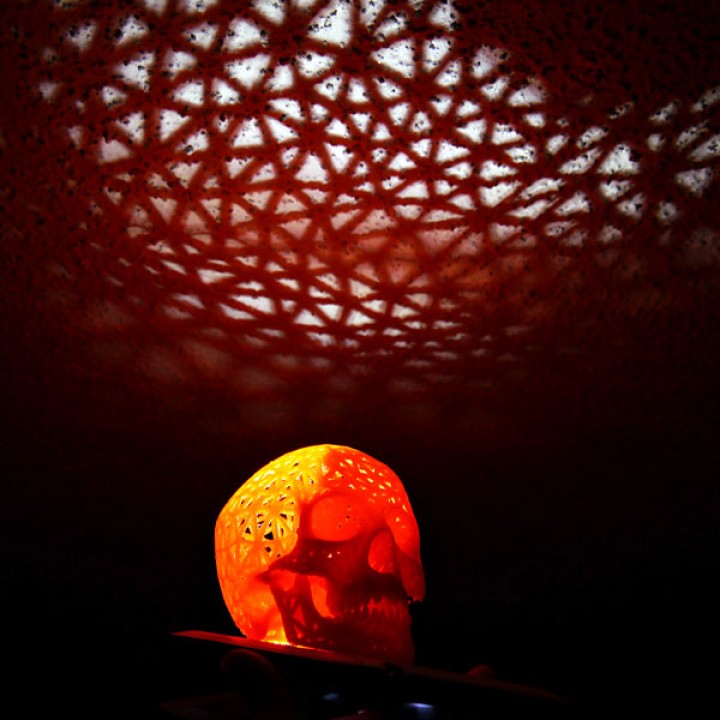 Halloween Skull Lamp: What You Need & How to Build It
The STL files for the Halloween Skull Lamp are free to download from MyMiniFactory. The print itself will take around 500 minutes to complete. While support structures aren't completely necessary for this model, there seem to be some issues when printing the cheekbone area of the skull – so be wary of that.
This 3D printed Halloween Skull Lamp can also be fitted with crossed swords, adding a bit of pirate pizazz to your print. You can mount the 3D printed swords at the base of the skull with a simple hair band and clip. Of course, adding the 3D printed bat or spider to your lamp will conjure up some extra terror, illuminating your surroundings with more spine-chilling patterns.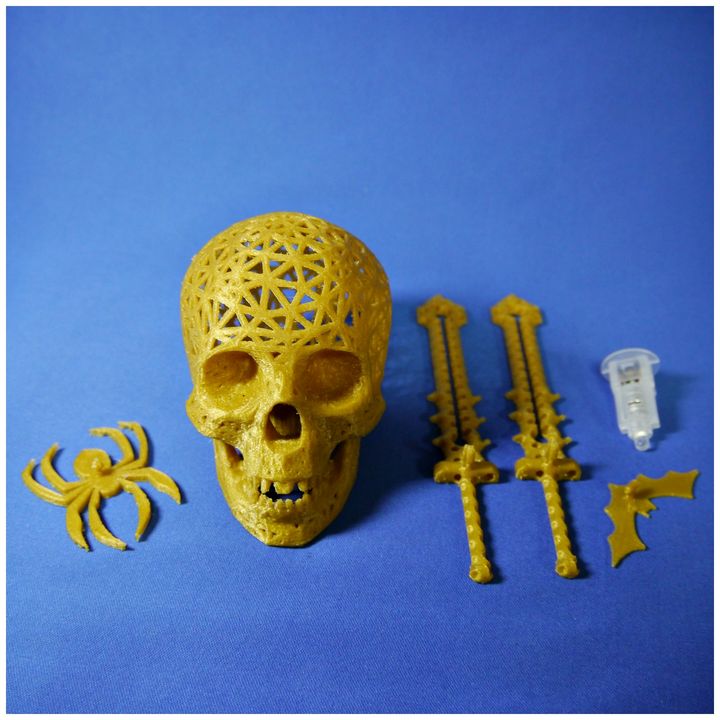 While Tsai doesn't share the exact LED bulb used in her example, another maker took on this project and shared their results on Thingiverse. In this case, the following components were used: LED Bulb, Lamp Cord with Dimmer Switch, and Candelabra Base Lamp Holder Light Socket.
In this case, the maker created a base out of plywood to mount the skull, and also routed the wood in order to place the wiring underneath. This particular take on the Halloween Skull Lamp is a bit more intensive, but you can read more about the remix here. If you want to take the easier path proposed by the original designer, you can just wire a small LED (like the one pictured above), insert it directly underneath the skull, and turn it on.
And that's about all you need to know about creating your own terrifying Halloween Skull Lamp!