Solar Decathlon China 2018 is a competition which requires teams to build a single or two-story solar house containing all necessary household appliances. This year's Solar Decathlon China will be hosted in Dezhou.
However, one team from Washington University in St. Louis has captured our attention due to their solar house being made with the help of 3D printers.
The students involved in the project are from the Sam Fox School of Design & Visual Arts and the School of Engineering & Applied Science and received support from the International Center for Energy, Environment, and Sustainability (InCEES).
Their design is called the Lotus House. It's a 3D printed home which looks like a blossoming flower, with curved overlapping panels making up the exterior. Its interior comprises of a 650-square-foot, single-story home.
Kinga Pabjan, a master's candidate in architecture and construction management, explains: "We were inspired by the beauty, delicacy and cultural importance of the lotus. But we didn't start with the lotus. Our initial intention was to use emerging technologies, particularly additive manufacturing, to create organic form. We wanted to challenge the possibilities of 3D printing."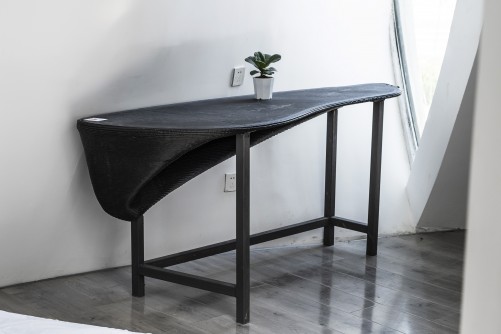 Lotus House is a Non-Orthogonal Design Thanks to 3D Printing
Although projects for this competition can often take years to create, this team only needed eight months to work on the Lotus House. This is partially thanks to having experience on the CRETE House for the 2017 US Solar Decathlon and also because every team member focused on completing a specific task.
They worked with Additive Engineering Solutions in St. Louis to produce sample wall framework and furniture. Then, in China, they spent five weeks working with Beilidato to create the walls and roof.
During this time, they also finalized electrical systems, floors, HVAC, and insulation. Finally, construction began last month.
This house is the only non-orthogonal design but Pabjan adds that this is because corners are "poorly used". The circular design will reduce wasted space.
And, of course, this unusual design was made easier with the help of 3D printing. However, creating a unique shape wasn't the only reason for relying on the technology. Additive manufacturing also offers many sustainability benefits.
The team created custom formworks using 3D printing and the results served as molds for the concrete side panels. Pabjan explains: "A typical wooden formwork can only be reused two or three times before it's tossed into a landfill. The initial price of a 3D printed mold is higher, but it can be reused a hundred times. 3D printed formworks also create far less waste, use a fraction of the energy and save time, since fabrication can begin as soon as the digital description is created."
According to the team, just after 10 uses the 3D printed mold paid for itself.
Pabjan adds that as 3D printing becomes more affordable to the construction industry, we'll begin to see a lot more organic designs. Here's hoping.
Keep an eye on the Solar Decathlon China website to find out how well the Lotus House does.
Source: Newswise