When it comes to its popular 3D slicing software Cura, 3D printer manufacturer Ultimaker is known iterate fast. After releasing the latest stable version of the Cura 3.3.1 just some weeks ago, the company now released the Cura 3.4 beta into the wild. This big update introduces a number of new features and several improvements.
Here's are some of the highlights:
Slicing engine upgrades: Infill support, cross infill image, support wall line count.
Better integration: Integration of Octoprint, Autodesk (i.e. Inventor, Blender), FreeCAD, and OpenSCAD projects.
UX enhancements: Auto-select a 3D model after import, better filter timeout performance.
Plugin updates: Toolbox for browsing plug-ins, Cura backups.
Regular bugfixes.
You can download Cura 3.4 beta software here. Continue below for a more detailed view of the specifications of Cura 3.4 beta.
1. Slicing engine upgrades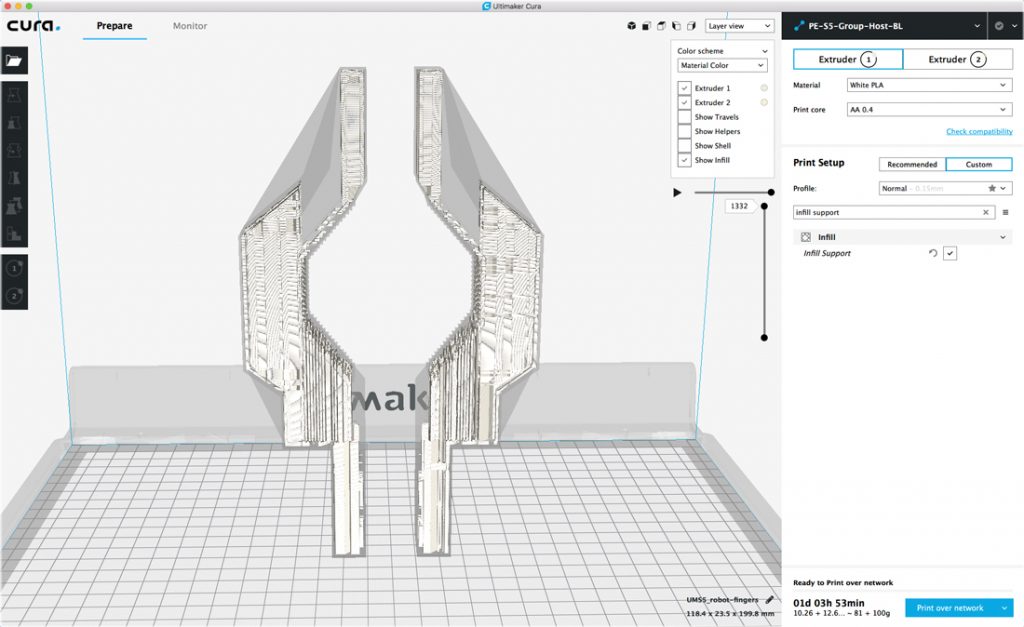 Infill support. If you enable this feature, the infill will be generated only where it is needed, using a specialized support generation algorithm for the internal support structures of a part.
Cross infill image. This sounds like fun: An experimental setting that allows you to input a path to an image to manipulate the cross infill and cross-fill density. This will overlay that image on your model. Note that the density settings may need to be adjusted for it to be visible.
Print outside perimeter before holes. This prioritizes outside perimeters before printing holes. By printing holes as late as possible, there is a reduced risk of travel moves dislodging holes from the build plate. This setting should only have an effect if printing outer before inner walls.
Disable omitting retractions in support. Previous versions had no option to disable omitting retraction moves when printing supports, This could cause issues with third-party machines or materials. An option has been added to disable this.
Support wall line count. Added setting to configure how many walls to print around supports.
Maximum combing resolution. Combing travel moves are kept at least 1.5 mm long to prevent buffer underruns.
Avoid supports when traveling. The Cura team added a setting to avoid supports when performing travel moves. This minimizes the risk of the print head hitting support material.
2. Plugin updates
Toolbox. The plugin browser has been redesigned into the Toolbox, complete with graphical elements to give more information about available plugins.
Cura Backups. When installed, this enables settings, materials, and plugins in Ultimaker Cura to be backed up to the cloud. Create an account on our secure server and keep your configuration settings handy, whether at home or in the office.
AutoDesk Inventor integration. Open AutoDesk inventor files (parts, assemblies, drawings) directly into Ultimaker Cura.
Blender integration. Open Blender files directly into Ultimaker Cura.
OpenSCAD integration. Open OpenSCAD files directly into Ultimaker Cura.
FreeCAD integration. Open FreeCAD files directly into Ultimaker Cura.
OctoPrint plugin. The new version of the OctoPrint plugin for Ultimaker Cura.
3. Third-party printers and stability fixes
New printer definitions. The list of pre-installed 3D printer profiles has been updated with the Felix Tec4 printer, Deltacomb, and Rigid3D Mucit.
This release includes a lot of bug fixes for stability and a better quality experience. Highlighted bug fixes are below:
Print job name reslice. Fixed behavior where print job name changes back to original name when reslicing.
Message box styling. Fixed bugs related to message box styling, such as the progress bar overlapping the button in the 'Sending Data' popup.
Curaproject naming. Fixed bug related to two "curaprojects" in the file name when saving a project.
Filament diameter line width. Adjusted filament diameter to calculate line width in the GCODE parser.
Korean translation. Fixed typos in Korean translation.
ARM/Mali systems. Fixed graphics pipeline for ARM/Mali systems.
Discard/keep. Fixed a bug where customized settings didn't give a 'discard or keep' dialog when changing material.
Non-GCODE USB. Fixed a bug where the USB port doesn't open if the printer doesn't support GCODE.
4. More information on Cura and 3D Slicers
You can download Cura 3.4 beta directly from the Ultimaker website. If you want to know more about 3D slicers, please read one of the following articles: