Only a few weeks ago, Ultimaker launched the stable version of Cura 4.0, last week it launched the beta version of Cura 4.1, and now the stable version is already available to download.
These regular updates to the free, open-source 3D printing slicer make it one of the most popular options for both beginners and professionals.
Ultimaker explains in a blog post: "This new and improved print preparation software packs a powerful 3D slicing engine into a simple, intuitive interface, with cloud connectivity, expert-configured print profiles for advanced 3D printing materials, multi-language support, and much more."
You can download the latest version of Cura for free from the Ulitmaker website. Let's take a look at a few of the latest improvements: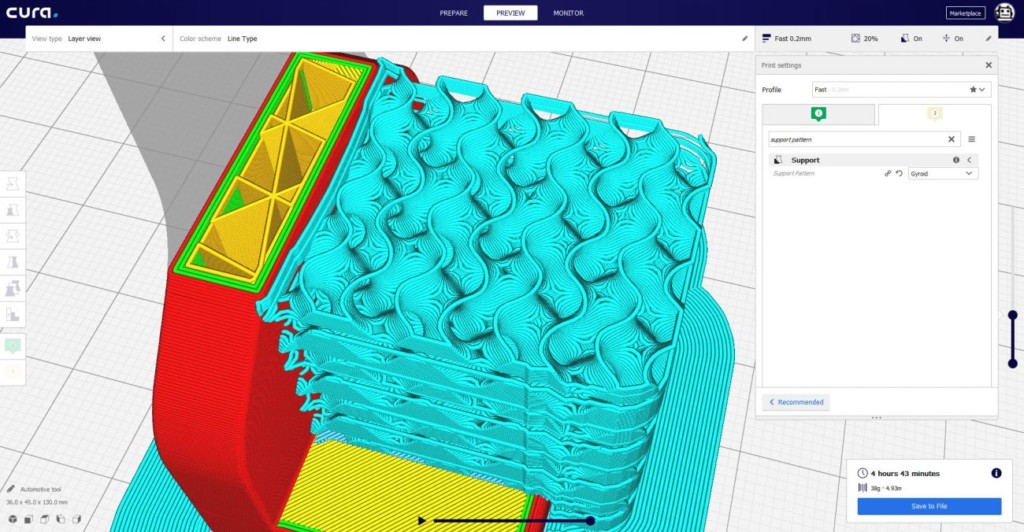 Cura 4.1 Improves Upon Existing Tools
The company firstly explains that this update has focused on improving existing tools, making slicing easier without compromising on performance. This is in terms of:
Usability – panels are now draggable! This means you can position settings panels anywhere in the 3D viewer. This enables you to tweak settings without changing the camera angle. When you're finished, simply double click the header and the panel will return to its default position.
Onboarding flow – when you download Cura 4.1, you will be greeted with a brand-new onboarding flow which was designed to be "more in line" with the interface. With these new onboarding steps, you can add 3D printers and adjust settings easily.
Material guidelines – these will be available via an icon which will appear next to your selected material and direct you to detailed information online. With these material guidelines, you can access the information you need easily in order to maximize print quality.
Gyroid support – this is a new support pattern which is liquid-permeable making it easier to remove when you choose to print using a water-soluble material.
Ultimaker Cloud – there have been a few major improvements here including to cloud discovery, which makes adding printers outside of your local network easier and Cloud monitor is now more stable and gives you insights into your cloud-connected 3D printers no matter where you are in the world.
Ultimaker Marketplace – badge notifications will now update you when a plugin or print profile in the Marketplace has updates available. Purchasing third-party materials is easier too as Ultimaker Marketplace will display a direct link to a material supplier.
Interested in downloading the latest stable version of Cura? Visit the Ulitmaker website and you can download it for free. As the company is regularly improving upon this software, it's worth getting in touch with any improvements of your own as it's likely you'll see them realized.
Source: Ultimaker