It was only a couple of weeks ago that Ultimaker launched the stable version of Cura 4.0. But, the 3D printer manufacturer is back with yet another update for its free, open-source 3D printing slicer.
Matt Jani, content marketing specialist at Ultimaker, explains in a blog post: "After the last release of Ultimaker Cura, we immediately got to work processing and implementing your feedback."
With this update, you'll find improvements such as improved notifications in the Ultimaker Marketplace for plugins and materials, more freedom with positioning settings panels in the interface, and better prime tower reliability.
You're urged to use the stable version of Cura if you're working on an important project, but for those interested in tinkering with the new beta version, you can download it for free from the Ultimaker website.
Let's take a look at a few of the improvements in greater detail: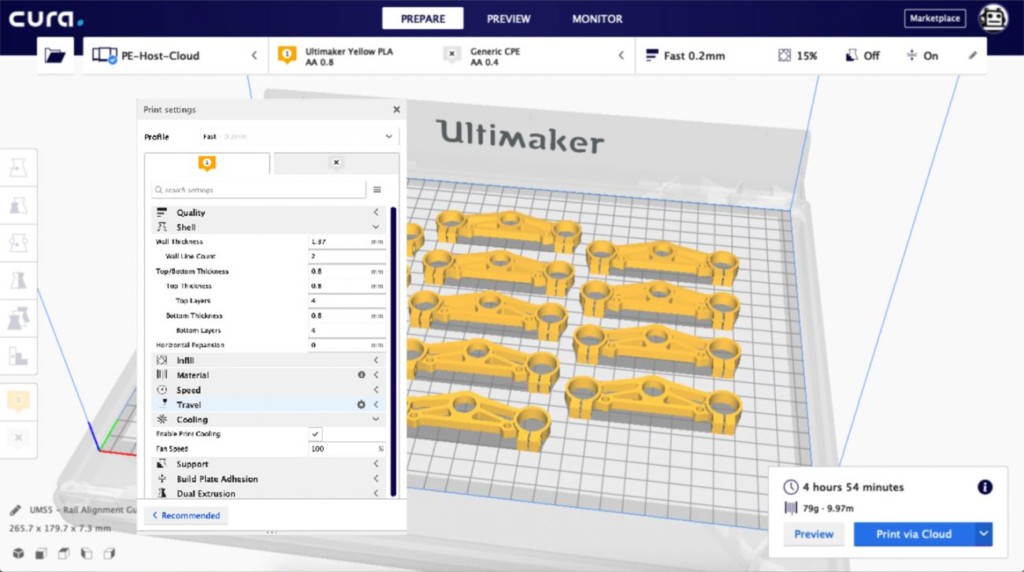 Ultimaker Cura 4.1 Beta Improvements
As well as being both free and open-source, Cura offers users the chance to send in their feedback to help regularly improve the platform. The result is used by professionals and beginners alike.
A few of the release notes from this update include:
UX improvements – here you'll find the onboarding flow on the first start has been improved to make it work better with the latest interface. Panels can now be dragged and positioned to your convenience – this includes the print settings panel and color scheme panel which are now completely untethered (all thanks to feedback from users). Furthermore, material printing guides are now available, helping you to access advanced 3D printing materials.
Slicing enhancements – there is now the option to print a prime tower with a brim independently from your model when adhesion type is either 'None', 'Skirt' or 'Brim'. Ultimaker has also added gyroid support which is efficient and makes supports easier to remove from your model.
Stability improvements – there are many stability improvements in this release including fixing issues in the monitor tab, while Mac OSX users will see a performance boost.
Ultimaker Marketplace – changes here include badge notifications to inform you when updates are available for your installed profiles or plugins. There is also the update of direct material purchases, making purchasing more convenient.
If you're interested in finding out more of the improvements made to Cura 4.1, visit the Ultimaker blog post. Or, if you'd rather give it a try yourself, you can download and test the beta version of Cura 4.1 today.
As always, if you have any feedback for Ultimaker, the company is always interested in hearing your thoughts and, who knows, your opinion may help improve the slicer for the stable release.