Ultimaker's Cura is the most common 3D slicer around largely due to the fact that it's free, open-source, and easy-to-use. Better yet, Ultimaker is regularly updating the software to ensure it's useful for everyone from beginners to professionals.
Now, as an "early Christmas gift", the 3D printing company has launched a preview of the software's new user interface. Ultimaker is asking for feedback from the community.
However, they add that this is currently a very early beta so the same print reliability as stable Cura versions can't be guaranteed. Ultimaker adds that if you're working on an important project, opt for a stable version of the software.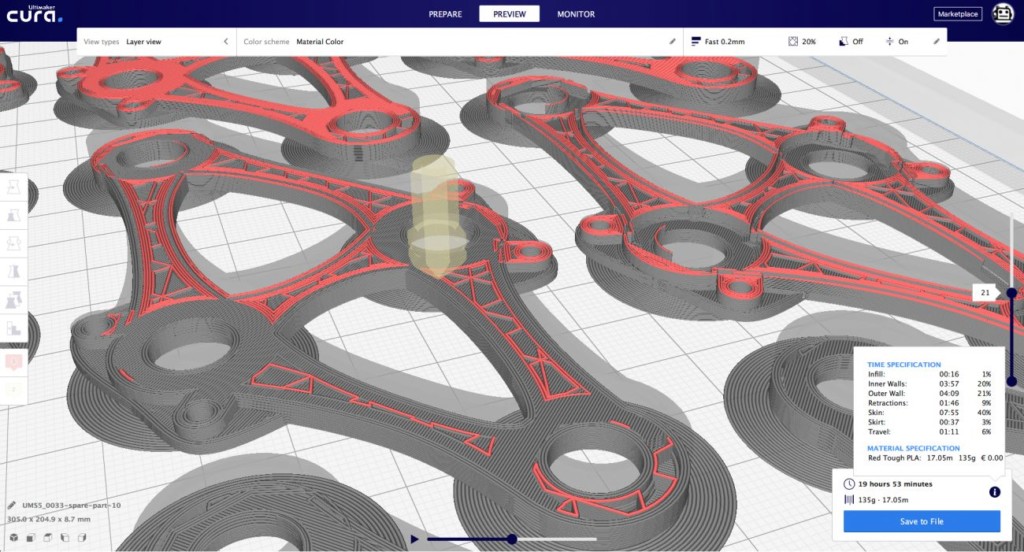 What's new in Cura 4.0?
Ultimaker's aim is to provide Cura users with a powerful tool which supports all of their needs no matter their level of knowledge. The features below have been improved on from previous updates to increase the workflow. According to the Ultimaker website, Cura 4.0 starts with these improvements:
New workflow: Ultimaker's user research has provided a more logical workflow which is also smoother to use.
Easier login: New user account control panel for plugins that need a login, eg. Cura Backups.
Marketplace: Quick and easy access to the Marketplace, which allows you to get access to plugins.
In terms of a more logical workflow, Ultimaker explains that three stages are shown in the header – these are PREPARE, PREVIEW and MONITOR. The idea of these three options is to give clear guidance.
From here, the stage menu has many collapsible panels. This allows users to focus on the 3D view as well as being able to see important information, for example, settings or slicing configuration.
Furthermore, there is more of a distinction between custom and recommended mode. This means beginners can more easily prepare a file without having to figure out the settings themselves.
Ultimaker has also made the preview page more obvious and accessible so users can examine layer view after slicing their model.
Finally, the Marketplace and a user account control have been integrated into the main interface. This makes accessing plugins and material profiles easy. Users can also easily manage plugins that require a login (such as Cura Backups) and other features which the company promises will follow later next year.
Take heed of Ultimaker's advice to not use this software if you're working on an important project. But, if you're curious about the new Cura interface and want to test it out, then download it from the Ultimaker website. The company also asks that you give them your opinions. The next beta will follow in Q1 of 2019.