TRUMPF, the German manufacturing solutions provider, has debuted a new green laser product with pulse function which can 3D print pure copper and other precious metals. The product, called TruDisk 1020 disk laser, was revealed at Formnext 2018.
The company believes that this technology will be groundbreaking and can be used in mechanical and plant engineering as well as in the jewelry industry. Thomas Fehn, TRUMPF General Manager Additive Manufacturing for sales explains: "The 3D printer doesn't waste expensive gold and silver."
By helping to reduce material waste, the laser could save manufacturers money and customers can receive a truly personalized product. TRUMPF demonstrated the capabilities of the TruDisk 1020 disk laser at Formnext by connecting it to the TruPrint 1000 3D printer.
Fehn continues: "Conventional systems use an infrared laser as the beam source, but its wavelength is too long and it can't weld highly reflective materials such as copper and gold. This can be done with laser light in the green wavelength spectrum."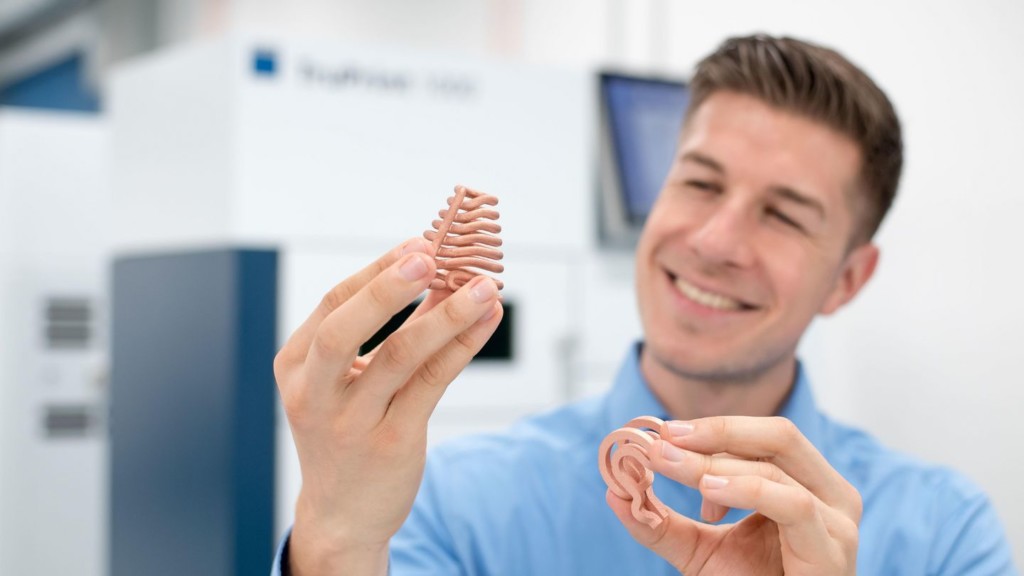 Fire Up the 3D Printer to 500°C
As well as introducing the new TruDisk 1020 disk laser, the company also announced that it will be increasing its material versatility for its TruPrint 5000 machine. The machine can print high-carbon steel or titanium alloys.
To do this, it's imperative to preheat the printer to 500°C. The resulting prints are made from high-carbon steel and titanium alloys and don't risk warping or cracking.
The company believes that the new material capabilities can be used for manufacturing forming tools and molds. Until this point, 3D printed high-carbon steel products have posed too high of a risk for cracking.
However, thanks to the preheating feature, this is no longer a worry. Better yet, the company believes this feature will improve the quality of printed implants and prosthetics as it reduces stress. Furthermore, there is no need for support structures either.
As Tobias Baur, TRUMPF General Manager Additive Manufacturing for technology, explains: "The laser beam melts the component surface, which subsequently cools back down to room temperature. The components weren't able to withstand this temperature drop, and cracks formed. The material quality and surface of carbon steels are significantly better than without preheating, preventing fractures in the components."
Source: TRUMPF Press Release