Four ocean engineering students from the University of Rhode Island took a Formalbs Form 2 3D printer onboard the Okeanos Explorer — a research vessel operated by the National Oceanic and Atmospheric Administration (NOAA) — for extensive testing at sea.
The students believe that by utilizing 3D printing onboard a ship, it's possible to reproduce mission-critical parts that have been damaged under the turbulent conditions of the ocean and weather, saving the need to make a costly return to port for resupply.
Opting for a Form 2 — a stereolithography apparatus (SLA) 3D printer that uses liquid resin as its printing medium — presented a major challenge. For the printer to be useful onboard, it's essential that it remains level. Unstabilized, the printer's resin would "slosh around," rendering it ineffective.
"We came up with a test matrix to evaluate how well the printer can perform different tasks," said student Josh Allder. "That would allow us to quantitatively and qualitatively assess the mechanical properties of the results."
The researchers had only six days aboard the Okeanos Explorer to complete their project and prove that SLA 3D printing on a research vessel is viable.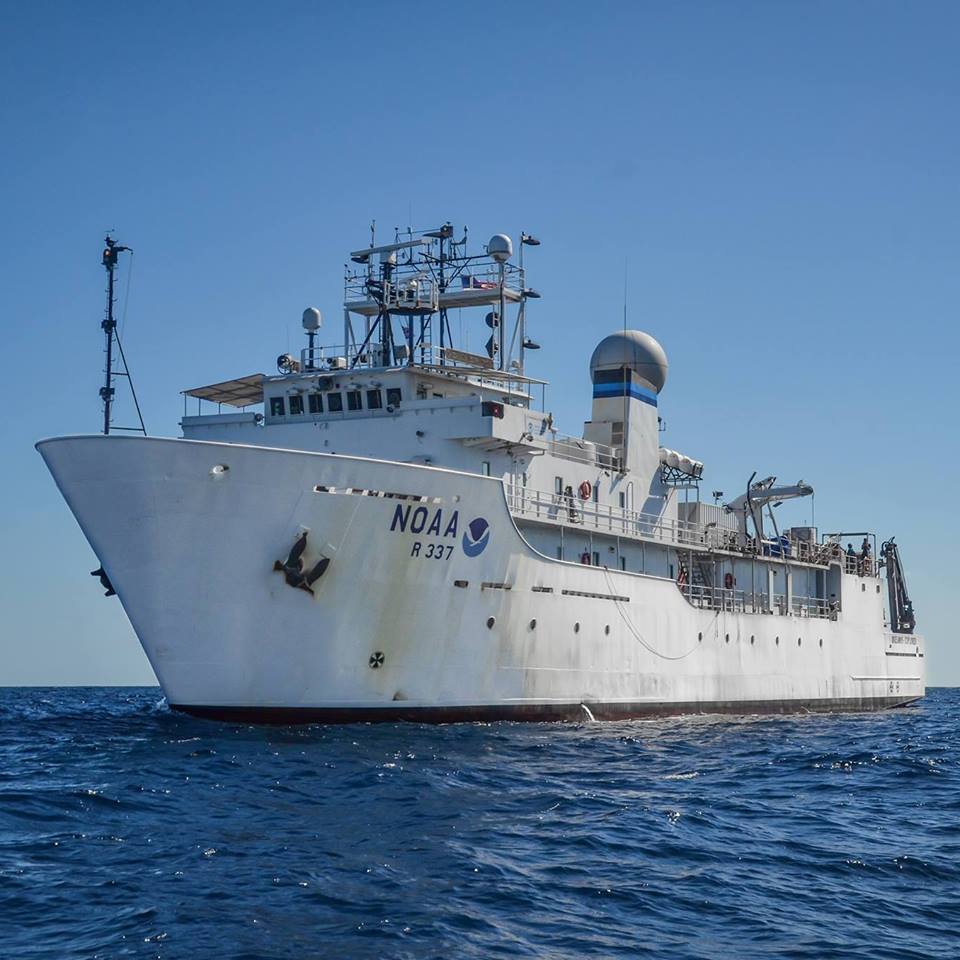 Taking a Formlabs Form 2 to Sea
The student's work began back in September and is a part of their senior capstone design project. With only a limited time at sea to test, meticulous planning took place on land. They began by simulating the motion of the sea using data from the Okeanos Explorer itself.
The data lead the team to invest in gyroscopic stabilization tech. Opting for the rental of a GyroPro stabilization platform — usually used to stabilize IMAX cinema cameras — the stabilizer satisfied the printer's internal diagnostics, which features an accelerometer that triggers an error message when the machine is tilted.
Once onboard the vessel, the students performed tests such as printing long bone shapes, a small cube and a complex print which they call the "Devil's Playground." Each provided insight into different challenges the prints may face at sea, such as deformities, tensile load, and the possible detail. While onboard, the printer was running constantly. This meant that one student needed to be watching it at all times.
"It meant being up at some weird hours. One of my four-hour shifts was from 2 to 6 a.m., but I was able to see the sunrise over Puerto Rico," said Grady Bolan, adding,"We had time to go outside to get some fresh air, take a stroll around the ship, grab a coffee from the galley, watch downloaded movies, work out, eat ice cream, or get some homework done."  
Satisfied that the printer was able to print successfully at sea and produce objects to required specs, the students were ready to print a piece of research equipment.
The end goal of the student's testing was to print a translucent pressure housing for a conductivity/temperature/depth (CTD) instrument. This housing — printed both on land and at sea — performed successfully at a depth of 200 meters.
"I was ecstatic to see that both of the housings stayed watertight. As a proof of concept, this was a great success. We 3D printed a pressure housing on board a moving research vessel, using a type of printer that had never been brought to sea before," explains Sean Nagle.
Source: The University of Rhode Island