Protolabs, a UK-based company which claims to be the world's fastest source for custom prototypes, is now offering 3D printed copper parts for additive manufacturing and CNC machining.
This development means that engineers can now bring copper parts to market more quickly and cost-effectively," said Protolabs product manager Andrea Landoni. "It also opens up new design possibilities as additive manufacturing allows you to develop geometries that are not possible using other methods, such as CNC machining. Some internal channels, for example, can create very complex issues."
The 3D printing service provider says it's one of the first manufacturers in Europe to offer 3D printed copper parts for CNC machining and additive manufacturing. By introducing this, the company hopes to provide new opportunities for engineers in industries such as automotive and aerospace.
On its website, Protolabs suggest uses for 3D printed copper parts such as resistance welding tips, tong arms for robots, bus bars, rocket nozzles, and heat exchangers.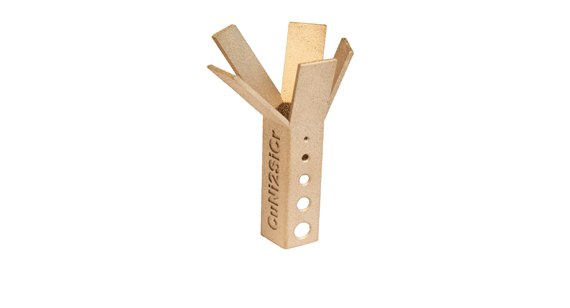 Protolabs Offers Rapid Delivery of 3D Printed Copper Parts
For creating such parts, Protolabs uses direct metal laser sintering (DMLS) technology. The copper material is low alloyed CuNi2SiCr.
The company says the material boasts good mechanical properties, making it useful for rapidly prototyping in harsh environments where pure copper is not a feasible option for engineers.
CuNi2SiCr offers high thermal and electrical conductivity, good mechanical properties and corrosion resistance, and is well suited for wear and sliding applications. It also fulfills "the requirements of conductive contact material in electrical engineering," says Protolabs.
"If you need to develop a copper part then we can now offer customers the best manufacturing technology according to their needs and rapid delivery," says Landoni.
"For prototyping, this means that you can test and reiterate your design to get it right and meet even the tightest of deadlines. For low volume production needs it means you are less likely to hold up the assembly line. It brings the concept of just in time delivery to new levels."
Protolabs explains in its press release that 3D printed copper parts can be ready in just one working day, depending on the complexity of the print. If you require CNC machining services, this can also be ready in just one day too.
For more on innovations in 3D printing, check out these stories:
Source: Press release