Over the years, we've seen a ton of innovation that has transformed both plastic and metal 3D printing, but one material that has been difficult to crack (or shall we say, shatter) in additive manufacturing is none other than glass. Take a moment to imagine a 3D printer churning out strands of molten glass until a complex 3D object is created. It might sound like fiction, but this is the reality that scientists from MIT's Mediated Matter Lab have been attempting to create for several years.
While we've been following along with this extraordinary development since 2015, the research team recently published a new study that demonstrates just how far they've come in that span of time. The new paper, published in 3D Printing and Additive Manufacturing, details a new and improved system that offers better control over the molten glass material, improving the overall print quality.
Dubbed as G3DP2, the researchers describe the 3D printer as "a new AM platform for molten glass that combines digitally integrated three-zone thermal control system with four-axis motion control system, introducing industrial-scale production capabilities with enhanced production rate and reliability while ensuring product accuracy and repeatability."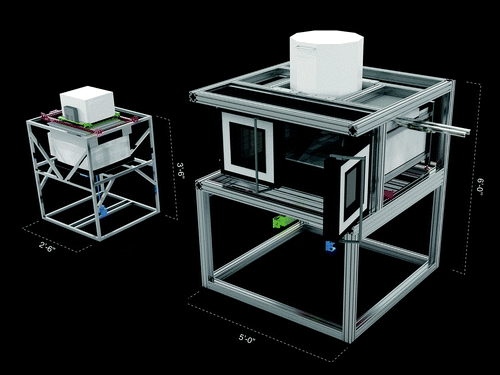 A Closer Look at G3DP2: A State-of-the-Art Glass 3D Printing Platform
This groundbreaking additive manufacturing system is comprised of a two-part vertical assembly. The G2DP2 consists of a stationary thermal module with a digitally integrated three-zone thermal control system and a motion module with a four-axis motion control system, which together enables the production of parts from transparent molten glass.
In order to sustain a high degree of durability throughout the production process, the thermal energy from the heating system is separated from the mechanical load of the motion system. The system's print head is located at the interface between the upper thermal and lower motion modules.
When an object is printed out of molten glass, it undergoes a thermal soak at 525°C for around five minutes, acting as the transitional phase between the printing process and annealing stage, which is where the glass material is toughened into the final product. The researchers claim that the prints can actually be annealed within the build chamber of G2DP2, but using an external annealing oven ultimately accelerates the overall production workflow.
With this newly refined process, researchers from the Mediated Matter Lab have been able to achieve a high production rate, accuracy, and consistency that was previously unattainable with other glass 3D printing systems.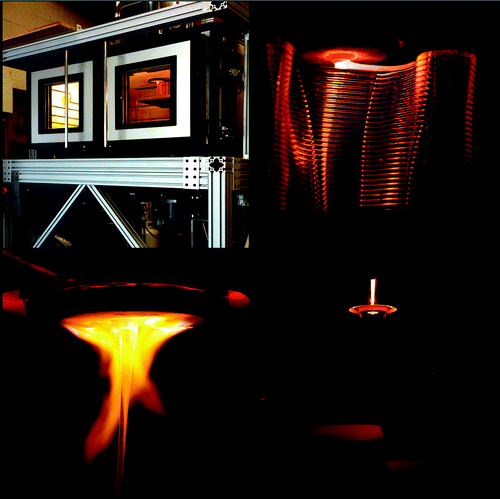 MIT Researchers Showcase Glass 3D Printed Structures at Milan Design Week 2017
In order to demonstrate the industrial capabilities of the new glass 3D printing system, the MIT researchers created a set of architectural-scale 3D printed glass structures. The columns, each of which were three-meters tall, were designed and printed for the prestigious Milan Design Week back in 2017.
The columns consisted of 15 different 3D printed glass components, structurally optimized with continuous cross-sectional morphology to act as freestanding cantilever structures. This design optimization helped to reduce the stress concentrations at any local point in the columns.  To connect the 15 glass sections together, the research team used thin silicone film joinery and steel post-tensioning systems.

During the Milan Design Week showcase, the team successfully showcased a groundbreaking technology that is able to create transparent glass structures that are geometrically complex, accurate, and strong. For future applications, the researchers believe that G3DP2 could be used to 3D print glass tubing for architectural structures that simultaneously act as heating, ventilation, and air conditioning (HVAC) systems.
"From the development of a new manufacturing technology to the deployment of novel products, which demonstrate its capability through the construction of the large-scale printed glass structures, this article presents a promising application of AM technology for glass at industrial-scale production; a technology that builds upon the concept previously introduced by the G3DP platform and exhibits significant improvement of the fidelity and reliability, while achieving faster production speed and volume, all critical to its industrialization," the researchers conclude in their study.
You can learn more about the G3DP2 system by reading the newly published study, which is fully available in the academic journal 3D Printing and Additive Manufacturing.