Patient-specific anatomical models have many uses from pre-surgical planning to helping explain a condition to a patient. Additive manufacturing has been widely adopted as the best way to create such models.
However, last year the FDA announced that any software which would create files for 3D printing anatomical models needed regulatory clearance. Materialise is the first, and currently only, company to develop a software which matched the regulations.
The software, called Mimics inPrint, turns medical image data (DICOM files) into 3D anatomical models and received FDA 510k clearance earlier this year. Now, Materialise is partnering with 3D printer manufacturers to certify printers for use with the software.
At RSNA 2018, Materialise announced that it is partnering with Stratasys. The company has now validated Stratasys' PolyJet technology for use with its Mimics inPrint software. This means, Stratasys' J750, J735 and Objet30 Prime multi-material and multi-color systems can now be used in hospitals.
As a result, the two companies aim to enable medical professionals to 3D print safe and high-quality patient-specific anatomical models and remove the burden of quality-control currently on medical professionals.
Bryan Crutchfield, VP and General Manager of Materialise North America, said: "By validating Stratasys' 3D printing technologies through our certification process, we're giving doctors and hospitals improved access to high-quality anatomical models for personalised care to patients. The addition of multi-colour and multi-material printers to the list of validated printers is aimed to enable healthcare providers to implement a versatile offering that can support their most complex cases across a wide-range of surgical specialties on a single printer."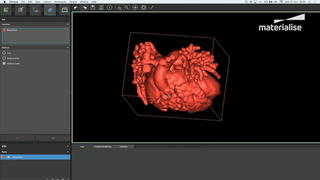 Ultimaker Also Receives Certification from Materialise
As well as Stratasys, Materialise has also certified the Ultimaker S5. The printer will be used to produce cardiovascular, orthopedic and maxillofacialmodels via the Mimics inPrint software.
Ultimaker worked closely with Materialise to ensure the S5 printer was safe to use with Mimics inPrint software. The two companies found that printing with PLA and PVA materials can safely produce models for diagnostic purposes.
Crutchfield added: "Starting with a validated system of hardware, software and materials for medical 3D printing helps reduce the burden on hospitals' quality control programs when introducing the technology. This solution we've developed with Ultimaker will improve access to 3D printed anatomical models to aid in surgical planning and multidisciplinary team communication."
Source: tct Magazine