Markforged announced the launch of Onyx FR, a flame-retardant 3D printing material. The manufacturer of metal and carbon fiber 3D printers explains that this material is nylon filled with chopped carbon fiber and is useful for applications such as printing electronic housings.
"Onyx FR opens up more applications for 3D printing across automotive, aerospace, and defense industries because it meets higher fire safety standards. When these parts are reinforced with strands of continuous carbon fiber, they are as strong as aircraft-grade aluminum at half the weight," said Jon Reilly, VP of Product at Markforged.
Onyx FR is self-extinguishing meaning it will stop itself from burning, unlike traditional 3D printed plastics which burn as soon as they catch fire. Markforged adds that this material also boasts unmatched strength and a high-quality surface finish.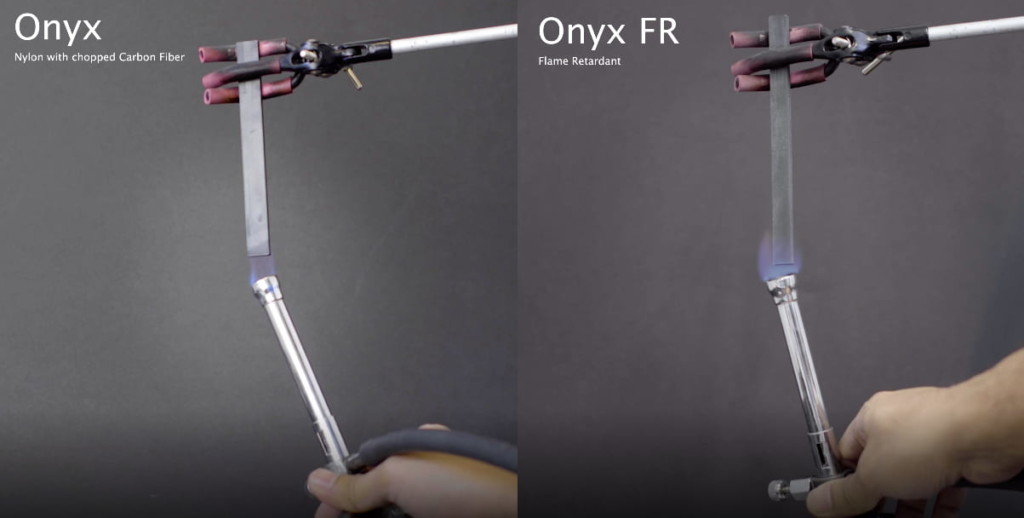 Print Flame-Retardant Plastic With Continuous Carbon Fiber
This material joins the large portfolio of industrial metals offered by Markforged. As well as resisting fire, Onyx FR has a superior print quality producing strong lightweight prints which offer high chemical resistivity, and heat tolerance.
Thanks to the chopped carbon fiber in Onyx FR, this material is 1.4 times stronger and stiffer than ABS. Markforged adds on the material's datasheet that the nylon can be reinforced with any other continuous fiber too.
Markforged has been producing materials for industrial 3D printing since 2013 and now has over 270 employees worldwide and $137 million in both strategic and venture capital.
Onyx FR, which achieves a V-0 rating on the UL94 flammability test, is now available for all Markforged customers with its Industrial Series Printers. You can learn more about the material via the company's website.
Source: Markforged