If you live an active lifestyle, you may be at risk of meniscal injuries. Researchers from the Istituto Ortopedico in Rizzoli, Bologna, paint a bleak picture of this injury as, if you are young and undergo surgery, you may later face osteoarthritis. However, if you simply live with the meniscal injury, you'll be in pain.
What's the solution? The researchers think they've found one in 3D bioprinting. During their proof-of-concept research, they developed a cellularized human meniscus by using the technology.
The team was inspired by many of the projects in recent years which have produced bioartificial substitutes to restore the function of damaged organs using growth factors, cells, and biomaterials.
Current methods for repairing the meniscus involve surgery where a surgeon tries to preserve healthy tissues. Alternatively, a transplant is required which poses challenges such as rejection, or scaffolds which are mismatched as they are made from either collagen or polyurethane and polycaprolactone.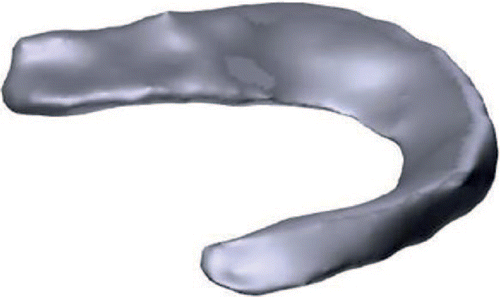 3D Bioprinting a Collagen Meniscus
The researchers worked with a human volunteer and took MRI scans of their body. From the Digital Imaging and Communications in Medicine (DICOM) data, the researchers produced a 3D model of bioengineered medial meniscus tissue in STL format.
They then used a microvalve-based inkjet printhead printing tool to produce the collagen meniscus. They printed a mixture of mesenchymal stem cells (MSCs) taken from bone marrow and embedded them in collagen-based bio-ink.
Describing their results in a paper titled Patient-specific meniscus prototype based on 3D bioprinting of human cell-laden scaffold, the researchers said: "The meniscus prototype showed the biological potential of this technology to provide an anatomically shaped, patient-specific construct with viable cells on a biocompatible material."
Although their work is only in its early stages, the researchers believe that this prototype proves that future developments of collagen-based, tissue-engineered structures to aid the optimization of damaged menisci replacing implants are possible. In fact, they hope other researchers will use this work as a starting point.