A research team from the University of Girona, Spain is using 3D printers from BCN3D Technologies, the manufacturer of desktop 3D printers, to isolate triple-negative breast cancer stem cells.
The team explains that the triple-negative subtype of breast cancer concerned occurs in young women. But, even after treatment such as chemotherapy, the subtype leads to relapses within three or four years in up to 30% of patients.
As a result, triple-negative breast cancer is one of the most aggressive cancers. But, the researcher's work is proving to be an important milestone. They use additive manufacturing to isolate breast cancer stem cells by creating scaffolds similar to structures found in the tissues and fibers of the body.
These scaffolds then separate the stem cells which cause relapses. From here, the researchers can study the cells and develop drugs which can tackle them without harming any healthy cells. Hopefully, this work will prevent patients from suffering relapses.
"A tumor is made up of many types of cells, and these are the cells we have in low proportions. Therefore, it is complicated to locate these cells within the tumor. This new system is cleaner, allowing us to work more directly with these types of cells later," says Teresa Puig who is directing the project and works as director of the Oncology Unit of the Group for the Investigation of New Therapeutic Targets.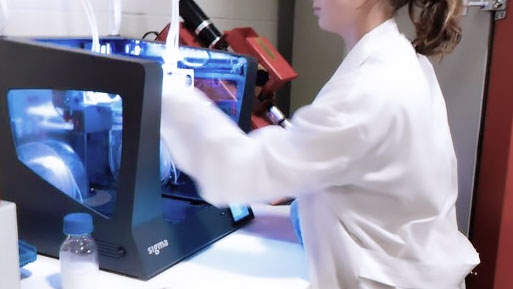 Developing a 3D Printed Scaffold
Dr. Teresa Puig explains that the tumor cells which the team are isolating stay in the body after chemotherapy or radiotherapy is complete.
The researchers worked on developing a 3D cell culture by developing a scaffold which encourages breast cancer cells to grow rapidly. They explain that before they began working with 3D printers in this investigation, they were producing 2D cell cultures. These would not effectively separate stem cells meaning pharmaceuticals could not be developed to attack them.
To produce the right 3D cell culture, the team first attempted to find the optimal parameters by testing different ones (such as infill pattern, infill direction, infill density, flow, and layer height)  on the slicing software BCN3D Cura. They then 3D printed with the optimal settings on a BCN3D Sigma 3D printer in PLA.
The researchers explain that they used the Taguchi experimental design method to create twenty-seven scaffold configurations which they then analyzed. Then, at least ten copies of each of these configurations were printed to perform the characterization and cell proliferation tests.
The researcher's aim was then to find which of the geometric forms separated the stem cells leading to relapse most effectively. Joaquim de Ciurana, director of the Research Group on the Engineering of Products, Processes, and Production, explains:
"This structure is a mesh that, on the basis of a series of parameters such as porosities, spaces, and the distance between one element and another, is ultimately able to allow cells to stick to the matrix or not, to grow, and to be able to 'enrich themselves', as our colleagues say." 
Source: BCN3D