According to the well-known Wohlers Report, the 3D printing industry grew by 33.5 percent to $9.975 billion in 2018. But what are the most interesting fields of growth? Read the interview with AM industry's top market researcher Terry Wohlers.
The annual Wohlers Report is a treasure trove of detailed information for the 3D printing industry. Well regarded as an invaluable resource, the Report is often referred to as the "bible" of the industry, for the trusted information contained therein.
The 2019 edition was released in March, offering 369 pages of in-depth reporting on trends, analysis, growth, and happenings in the global additive manufacturing industry.
We recently caught up with principal author Terry Wohlers, the founder and president of Wohlers Associates. For this year's report, he and the Wohlers Associates team sought input from a vast array of global expertise. With 80 contributors from 32 nations, Wohlers Report 2019 serves up a strong perspective of worldwide growth and trends.
This year, Wohlers explained, the team gathered "more input from users of AM technology." This included detailed information from well-known companies across several business areas — such as Airbus, BMW, Deutsche Bahn, and Jabil — to dig into industry trends.
What else did they find interesting? More detail right from the source.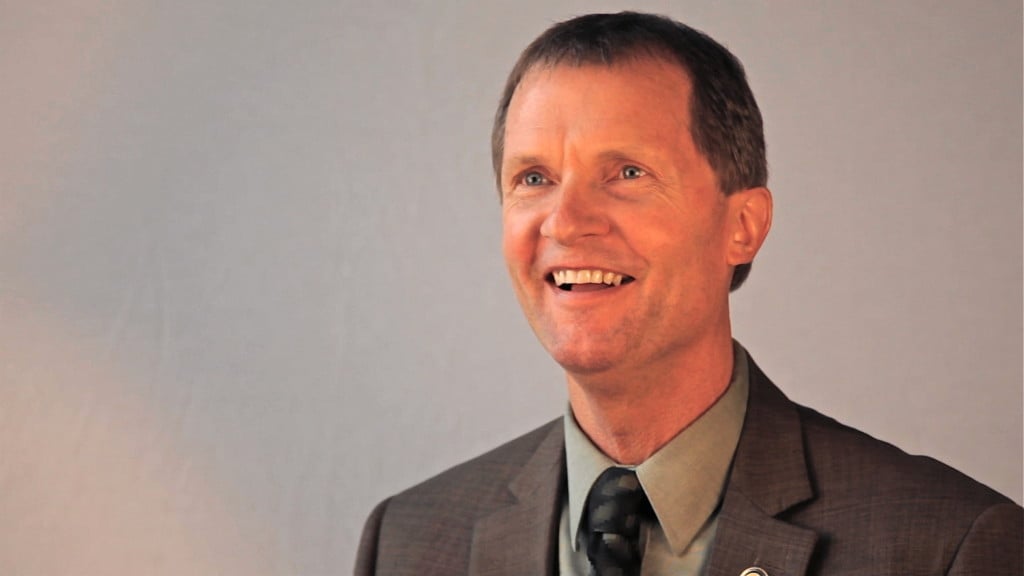 Were any of the market snapshot/overall findings surprising to you when the data began to emerge?
Materials of all types tracked by Wohlers Associates increased impressively, some by record amounts. For example, metals grew by 41.9%, continuing a five-year streak of more than 40% growth each year. The number of manufacturers of industrial AM systems grew to 177 total worldwide, but the 50% growth of these companies in the U.S. was especially surprising. We also found 107 investment transactions valued at $1.3 billion in AM-related startup or early-stage companies.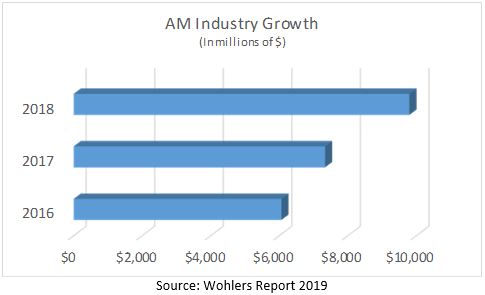 The 2019 report sees some shifts in market share; what was surprising/unsurprising in any of these shifts?
Stratasys and 3D Systems again felt the pressure of competition. Meanwhile, others such as Formlabs and Markforged are expanding quickly, contributing to overall market growth.
This year's report increases focus on DfAM (Design for Additive Manufacturing) and post-processing; how does that mirror focus in the industry?
Every time-consuming procedure and cost must be taken into account when using AM for production applications. DfAM and post-processing directly address these issues and they can make or break the use of AM for final-part production in nearly every case.
What opportunities do you foresee for new entrants into the 3D printing industry?
DfAM knowledge, skills, and experience are hard to come by. When DfAM principles are well ingrained in one's mind, it becomes clear how to design products for AM. DfAM is among the biggest challenges and opportunities we see.
When will we see more adoption of 3D printing in regions like South America and Africa that are currently seeing relatively small usage?
The seeds of adoption are with low-cost machines. It is taking time for these regions to invest sufficiently for the adoption of AM for production application. The more industrialized countries such as South Africa is leading the way. We have visited the country 21 times, so we have a pretty good feel for product development and market dynamics in that region.
What would you say might be the three biggest takeaways from Wohlers Report 2019?
The list of the biggest takeaways is long. In fact, the principal authors of the report recently compiled a list of the most interesting findings from our work on the report and we found a total 46 of them. It's difficult to name just three, but the following are among the most important:
A very broad range of investment is at an all-time high.
DfAM is a great challenge, but it presents enormous opportunities to reduce material, weight, and part numbers and improve product performance.
Applications will drive the development and adoption of AM. "Riches in niches" will continue to dominate most applications before we see AM enter the mainstream for widespread series production.
Wohlers also added that end-use production has become the top application for 3D printing. Together with functional prototyping in a close second place, these two applications represent 56.3% of total usage.
His comment regarding DfAM — design for additive manufacturing — certainly comes from a well-informed background. Wohlers Associates has been stepping up in DfAM training, partnering with organizations to offer course work focusing on DfAM.
The additive manufacturing industry is currently valued, per the report, at close to $10 billion in products and services, having grown by almost 62% over the past two years.
In Wohlers Talk, several factors are noted as contributing to this strong growth, including:
Design for additive manufacturing (DfAM)
Education and training
Post-processing and post-process automation
Materials diversification
Custom products and low-volume manufacturing
Partnerships and collaborations
Startup companies
Viable supply chains
Data, security, and interconnectivity
Investment in applications
Corporate centers of excellence
Materials, in particular, saw significant growth. Metals revenue, for example, grew 41.9%, while polymer powder bed fusion materials hit an all-time high. Growth in both metal and polymer technologies continues. Technologies are examined in terms of 3D printer, as segmented into desktop (sub-$5,000) and industrial ($5,000+) systems. At this time, Wohlers Associates is happy with the two segments, though each year the team discusses adding a third (prosumer) level to the breakout; Wohlers noted that to date the two segments continue to work for their analysis.
Wohlers Report 2019 is available now in both online ($495) and print ($595) versions.
The interview was conducted by AM industry expert Sarah Goehrke.
License: The text of "Interview: Terry Wohlers On the State of the 3D Printing Industry in 2019" by All3DP is licensed under a Creative Commons Attribution 4.0 International License.
Subscribe to updates from All3DP
You are subscribed to updates from All3DP
Subscribe
You can't subscribe to updates from All3DP. Learn more…