Last week, nearly 7,000 professionals, enthusiasts, designers, exhibitors, experts, and the interested descended upon Dallas. SOLIDWORKS World 2019 brought with it an enthusiasm unique to this event, as the SOLIDWORKS community is easily one of the most engaged in CAD.
The annual happening is filled with excitement — and this year's was a surprise, as it will be the last-ever SWW, more than two decades after the inaugural edition. But the event isn't going away: In February 2020, Nashville will host the rebranded 3DEXPERIENCE World.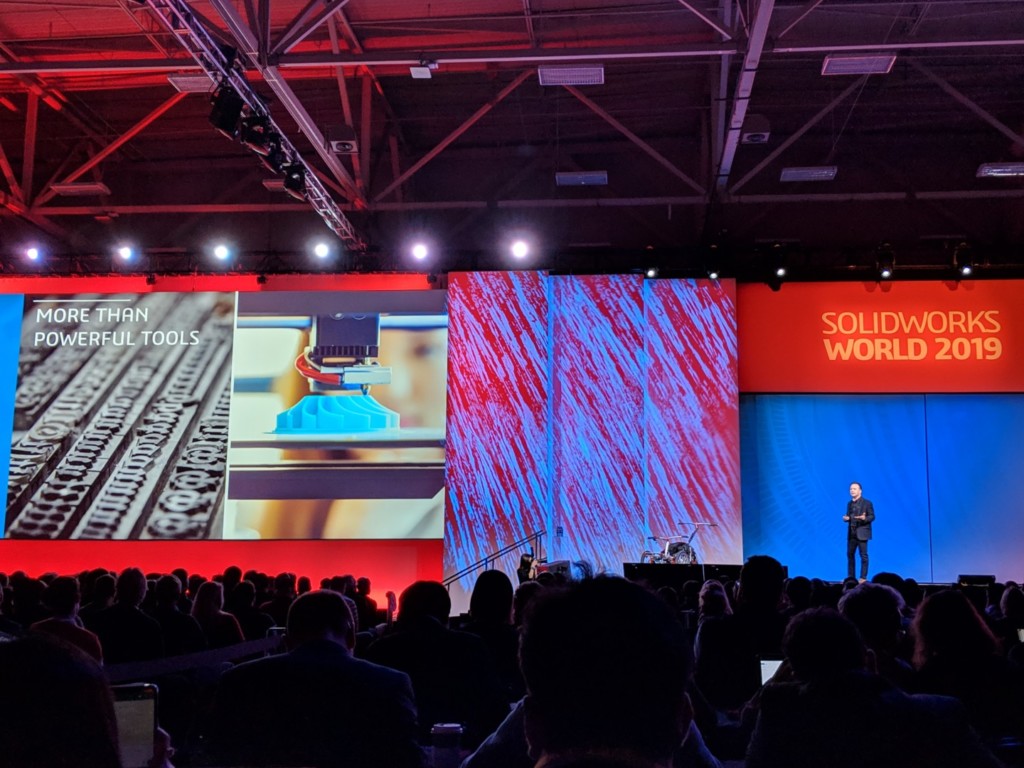 It stands then, that the focus at SWW 2019 was one of an integrated vision.
The announcements from SOLIDWORKS and its parent company, Dassault Systèmes, presented a vision of a more platform-thinking future for CAD. Dassault Systèmes has been touting what it calls the 3DEXPERIENCE, which integrates more features into a broader-focused platform with a series of specialties built in. So 3DEXPERIENCE World will be not only SOLIDWORKS, but more of the Dassault Systèmes software and experience portfolio, including the caps-lock likes of ENOVIA, SIMULIA, CATIA, and more.
The newly introduced 3DEXPERIENCE.WORKS incorporates the also-rebranded offering of DELMIAWORKS (from the recently-acquired IQMS) into a larger platform.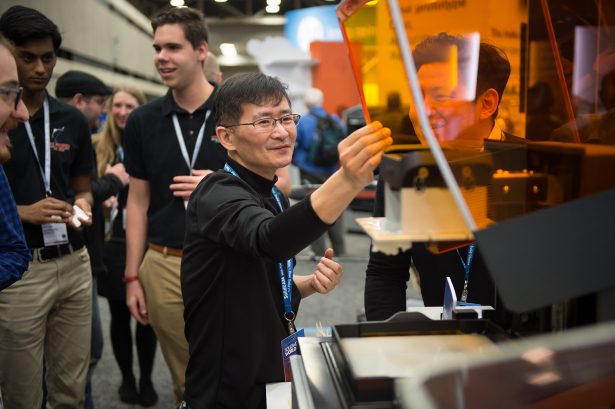 Key to 3DEXPERIENCE.WORKS is a streamlined efficiency for operations, using "one cohesive digital innovation environment instead of using a complex series of point solutions that require jumping between applications and interfaces." Streamlining and simplifying is an important part of an increasingly digitized manufacturing workflow, so we can presume we'll continue to see more of this type of platform thinking.
In addition to the software announcements of the week, the Partner Pavilion brought together exhibitors who use SOLIDWORKS in their processes. From student teams to global giants, a range of companies show each year on the small-but-mighty exhibit side of SWW. While only a handful of companies are 3D printing-focused, those in attendance tend to represent strong use cases for the technology. Most 3D printers are themselves designed using SOLIDWORKS, Dassault execs mentioned in a few conversations, and then on top of that many designs to be 3D printed have their start in SOLIDWORKS.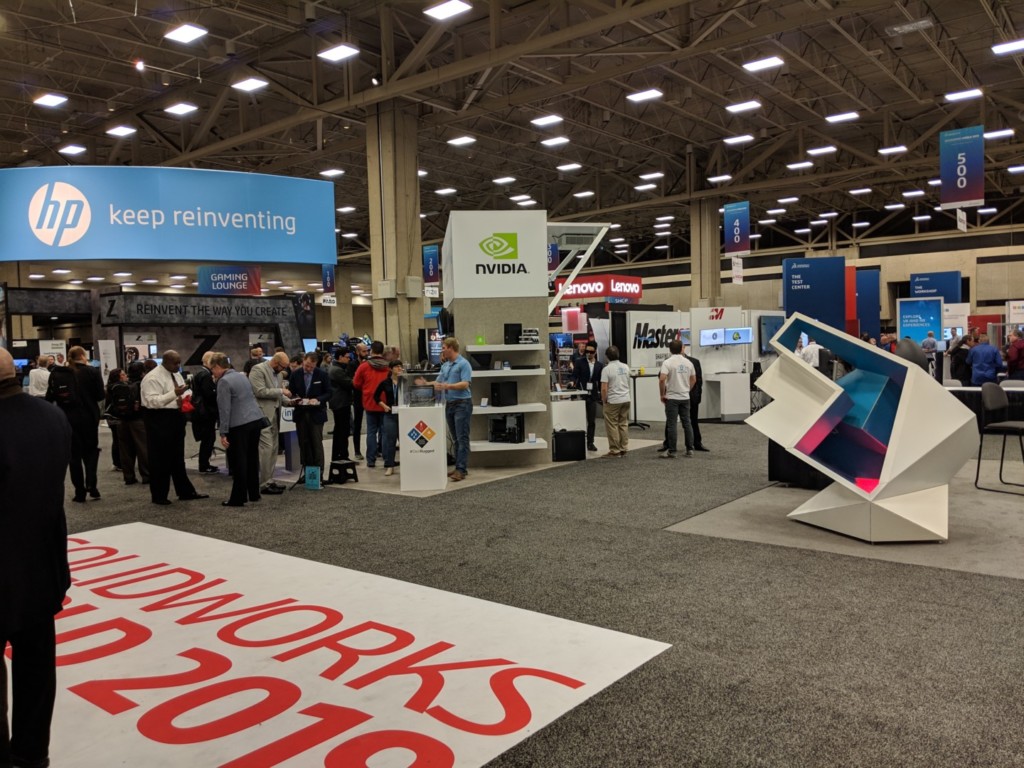 HP and Stratasys had probably the biggest booths among the 3D printing companies, but we also saw the likes of 3D Systems, Desktop Metal, Rize, Markforged, MakerBot, BigRep, and Ultimaker showing their systems. Service bureaus Forecast 3D and Protolabs were also on hand to share their offerings. I spoke with representatives from most of these companies, and several had interesting new introductions to share.
One of the most intriguing, from Rize, was a $15M Series B funding round that included a new investor in Dassault Systèmes. This represents the first 3D printing hardware investment from the company, leaving little doubt: Rize is one to watch.
Also interesting at the show was the GrabCAD Make it Real Challenge, for which I was among the judging panel. Following hundreds of design submissions and pre-judging, the final round was held at the Stratasys booth live at SWW. Visitors could examine 3D prints of the finalists' designs and vote via touchscreen for their favorite. This challenge was intriguing in that it showed the absolute need for more education around and training in DfAM, particularly for multi-material 3D printing. The winning design was simple but beautiful: a rock. (I voted for the kidney model, personally, but made my peace with the rock's win by naming it Dwayne.) It looks just like the real thing, with crevices and colors looking very nature-made despite its J750 origins.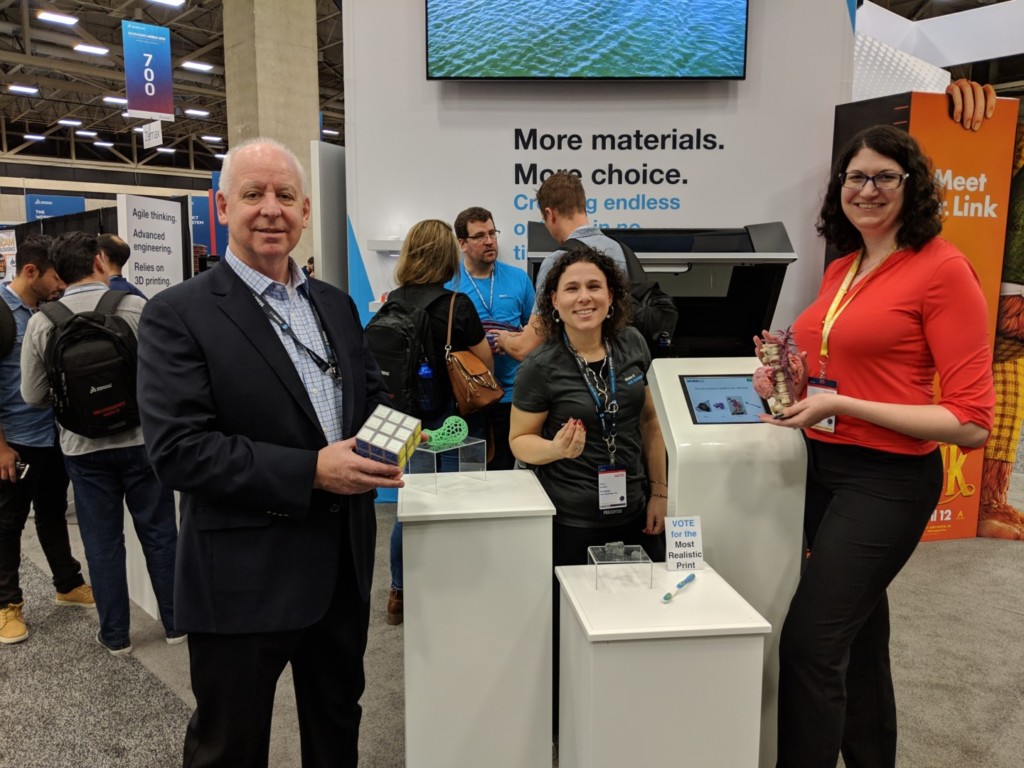 The SOLIDWORKS community also appreciated the annual opportunity to unwind at the special event. This year's Texas-themed hoedown was held at Gilley's. It's not every day you see tech enthusiasts on their hands and knees racing armadillos, but weirdly isn't the first time I've seen that, as RAPID + TCT was also in Texas last year. So, come for the tech, stay for the armadillo racing?
The after-hours event was also a good chance to connect with some strong designers who are well known in 3D printing, as well as educators and other users from around the world.
Overall, this year's SWW experience was a good one, and as always most interesting for the connections. One of the best values of attending user-driven conferences is the time for networking, and SWW includes on-site lunch and a bare minimum of one officially-hosted networking event per evening. These events are the real must-attends of SWW, as they give context to the announcements and news of the day. After all, it's the people who make the tech who make the news.