Last year, more than 10 million parts were printed with HP's Multi Jet Fusion technology according to a report released by the company.
"We are seeing an explosion of new applications across industries taking advantage of the design freedom, superior economics, speed, and industrial-grade quality unlocked by HP and its partners… As we continue to expand our plastics and metals portfolio across both prototyping and production, and build out our community of global partners, we are helping customers save money, accelerate time to market, and improve sustainability as they progress on their digital manufacturing journey," said Christoph Schell, President of 3D Printing and Digital Manufacturing, HP Inc.
The last milestone to be announced by the company announced was that it had printed 3.5 million parts since the technology launched in 2016 so hitting 10 million already is a huge improvement.
The company credits this huge number to the fact that the printer can be used for creating end-use products and functional prototypes which can prove both cost-effective and fast. In fact, according to HP, 50% of the 3.5 million parts printed were for end-use applications.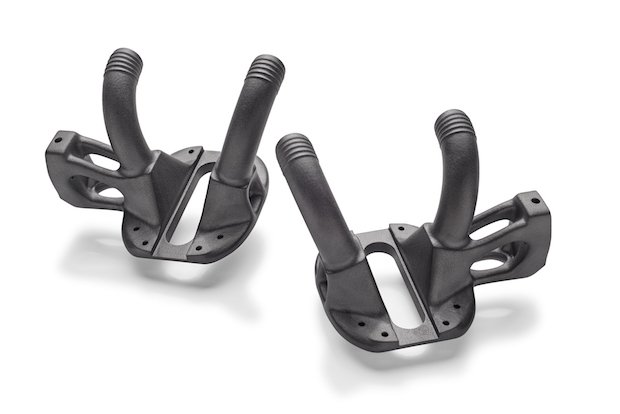 3D Printing Applications Explode Across Industries
This week, HP plans to showcase new technology and applications as well as customer and partner stories at the Additive Manufacturing Users Group (AMUG) conference.
Fast Radius is one of the customers to be showcased by HP. The company is an additive manufacturing solutions provider with a factory in Chicago which has MJF printers among many others. As a result, it provides customers such as the United States Marine Corps, Husqvarna Group, Yanfeng Global Automotive Interiors, and even HP with 3D printing solutions.
Lou Rassey, CEO, Fast Radius, said: "The benefits of the HP Multi Jet Fusion-enabled production service offered by Fast Radius provides customers with enormous application design, production, and supply chain benefits… From reduced warehousing and obsolescence, and a lower carbon footprint, our collaboration with HP is truly bringing out the real value of additive manufacturing for businesses around the world."
The AMUG takes place between March 31st and April 4, 2019. Those attending can find HP at the Hilton Chicago where they can learn all about how its Metal Jet, which the company claims is 50 times faster and even cheaper than competitors.
Source: tct Magazine