Our recent coverage of Endurance's quick and simple add-on laser cutting modules for 3D printers generated quite the interest, so the company is back to explain just how simple the process is to modify your 3D printer into a multipurpose making machine.
But first, a little background on the tech behind Endurance's laser cutting add-ons.
Lets Talk About Technology
Powerful solid-state lasers are a relatively recent development. Before, the majority of lasers for the purposes of cutting and engraving relied on CO2 and fiber optics to achieve their purpose. Such systems have one major drawback — they are bulky and require a lot of power.
As a result of this, such laser cutting systems were incompatible with the small form factor and relatively light weight of the desktop 3D printer.
Looking to change this and make desktop laser cutting convenient for 3D printer owners everywhere, Endurance set about creating a simple add-on that would supercharge the making experience.
The result is a laser attachment that is compatible with any 3D printer or CNC machine, is easy-to-install and powerful enough to cut woods (including plywood) and engrave on metallic surfaces such as anodized aluminum, copper, brass and stainless steel.
At the time of writing, Endurance builds a wide variety of laser add-on modules at varying powers for your 3D printer, starting at 2.1 watt (2100 mW), all the way up to 10 watt (10,000 mW) lasers using NICHIA 445 nm diodes.
There are a variety of inexpensive laser options on the market, but only Endurance produces true continuous output lasers using efficient drivers to ensure safe, consistent and continuous operation.
Further to this, Endurance's laser add-ons have inbuilt TTL mode, meaning that the power of the laser can be changed directly via the printer's controls or g-code as the cutting/engraving job runs.
What is Laser Cutting/Engraving?
Laser cutting is a process in which a laser beam selectively removes material along a determined path by vaporizing it. Laser engraving is much the same, but instead of completely removing material under the beam, it marks the surface instead, altering its appearance through oxidization.
Endurance add-on modules are suited to almost all laser cutting and engraving situations.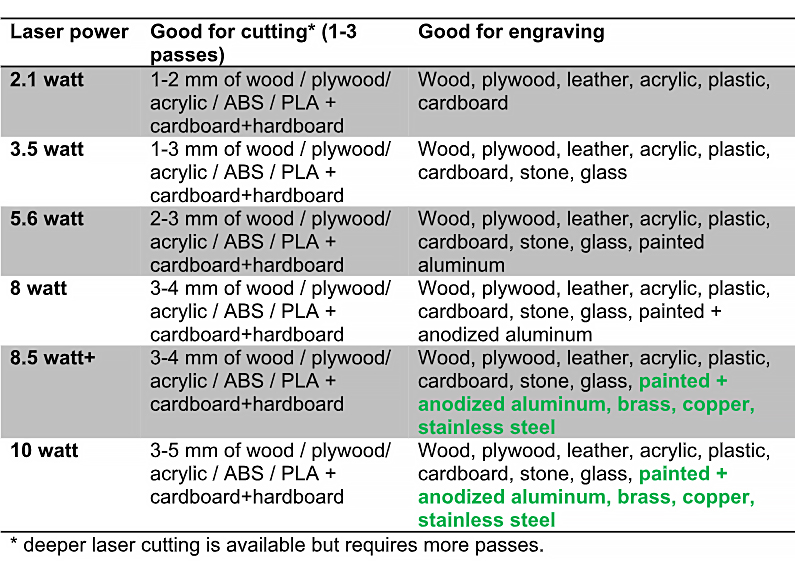 How to Convert Your 3D Printer into a Laser Cutter
Using Endurance laser add-on modules, you can convert your 3D printer into a laser cutter in less than an hour.
And best of all, you don't even need to strip away your extruder — Endurance add-ons come with adapters needed to quickly mount the laser to your print head with little fuss.
Taking the company's 10 watt laser as an example, the basic requirements to run the laser add-on is dedicated power supply each for both the laser's M01 control box (included with every 10 watt laser — optional for 5.6 watt and lower power models) and the laser's cooling fans, plus access to one of your 3D printer's fan outputs on its mainboard.
With the laser module hooked up as explained above, and mounted to the print carriage, it's a simple case of using the appropriate g-code.
M03/M05 or M106/M107 commands will turn the laser on and off, while the intensity can be controlled using the S command (S255, for example, gives maximum power).
For a meticulous look at how exactly to add an Endurance laser to a wide variety of machines (complete with pinout diagrams), click here.  You can check if your machine is compatible here.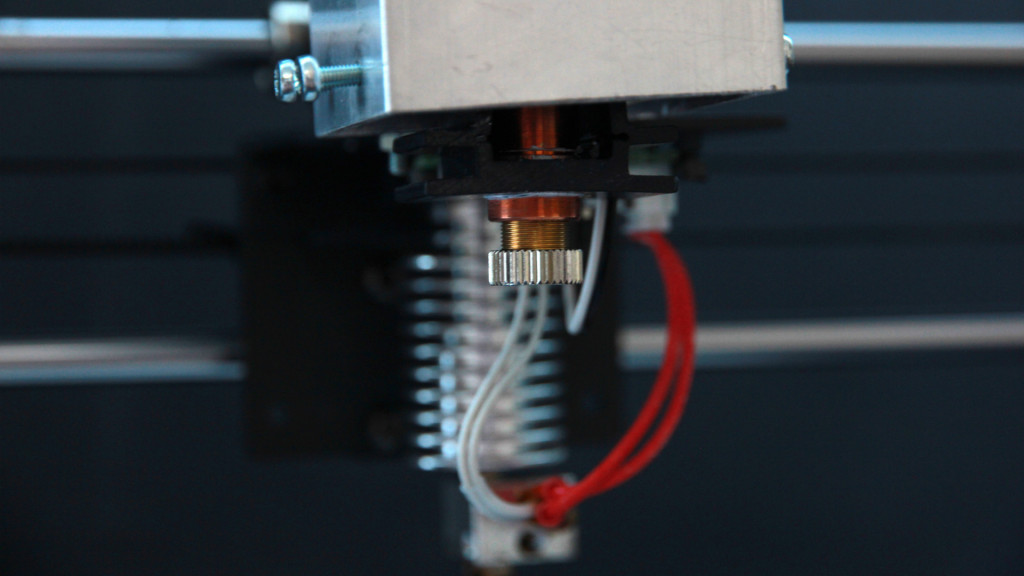 For examples of what Endurance laser owners are getting up to with theirs, check out the company's Flickr page.
Get 35% Off Your Endurance Laser Order
All3DP readers can check out Endurance's laser modules for themselves for less with our special 35% discount. From now until July 10, 2018, use the code "I love All3DP and Endurance Lasers" at checkout on the Endurance website to get 35% slashed off your order.
Endurance is confident you'll love the laser. But if that's not the case the company honors a 30-day money back period via PayPal.
Returning customers get a little extra too, with the company offering a generous upgrade program that lets you trade in your old laser for an upgrade at discounted prices.
Customer service is a point of pride for Endurance, with founder George Fomitchev going above and beyond to ensure the company responds to any and every query with studious attention.
Order your own Endurance laser here, or reach out to George:
Online chat: Endurance
Email: [email protected]
Cell/WhatsApp/Viber/Telegram: +79162254302
Facebook: EnduranceRobots
Twitter: reangeorge
Google+/Hangouts: GeorgeFomichev
Skype: george.fomitchev
Youtube: EnduranceRobots