Exploring the archaeology of the living and of artificial life is an exhibition at Paris' Centre Pompidou called "Le Fabrique du Vivant".
For this exhibition, ecoLogicStudio, the architectural and urban design practice, worked with the CREATE Group from the University of Southern Denmark, WASP Hub Denmark, and the Synthetic Landscape Lab at Innsbruck University.
Together, they created what they're calling the "world's first 3D printed bio-reactor" or HORTUS_XL | Astaxanthin.g. It is on display from now until 15th April 2019.
The show is part of the Mutations-Créations series at the Musée National d'Art Moderne in the Centre Pompidou and was curated by Marie-Ange Brayer with Olivier Zeitoun.
In a press release, it's explained that the HORTUS_XL | Astaxanthin.g installation is "intended as speculative 1:1 scale prototype of living architecture, a new generation of thick biophilic architectural skin receptive to urban life."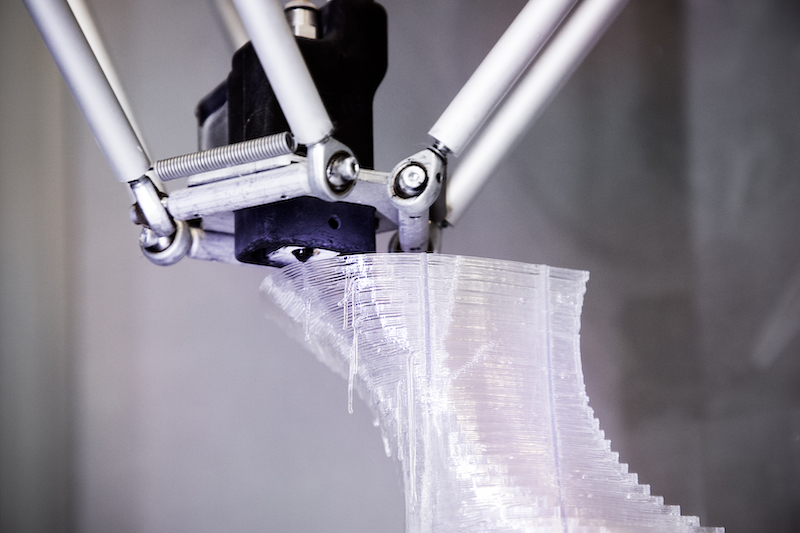 How "HORTUS_XL | Astaxanthin.g" was made
The structure was designed algorithmically and this simulates the growth of a "substratum inspired by coral morphology." Large-scale high-resolution 3D printers were used to physically deposit layers of 400 microns which are supported by triangular units of 46 mm and divided into hexagonal blocks of 18.5 cm.
Delta WASP printers created the structure which took 1780 hours in total and weighs 271 kgs. It is composed of 185 different construction components. The bio-reactor was printed with PETG thermoplastic.
The press release explains what's happening to the structure in front of a visitor's eyes: "Photosynthetic Cyanobacteria are inoculated on a biogel medium into the individual triangular cells, or bio-pixel, forming the units of biological intelligence of the system. Their metabolisms, powered by photosynthesis, convert radiation into actual oxygen and biomass. The density value of each bio-pixel is digitally computed in order to optimally arrange the photosynthetic organisms along iso-surfaces of increased incoming radiation."
Ultimately, the designers describe this structure as an interesting way of fusing biological and digital strategies together. Visitors to the exhibition will be able to explore the structure up close and wander around and inside it. The micro-organisms of the structure will also be absorbing the visitor's carbon dioxide.
Visit the Centre Pompidou website to find out more. But, don't worry if you don't get a chance to visit this structure in Paris, it will be moved in Spring to the Museum of Applied Arts in Vienna.
Source: Press Release