When it comes to taking your prints to the next level, SpiderMaker's matte PLA filament gives you the benefits of ABS — with none of the drawbacks.
The filament manufacturer gets its name from nature's ultimate crafter, the spider, and "maker" because they produce their own products. It is focused on making exceptional, multiple application items including filament that is both tough and fine — like spider's silk.
SpiderMaker was created by Taiwan-based Shinkong Synthetic Fibers Corporation (SSFC), which has been trusted in plastics for the last 50 years. SSFC has a wealth of experience in research and development of polyester material, which it uses to produce unique, durable and beautiful printing materials. They've brought this expertise to 3D printing filaments at SpiderMaker.
SpiderMaker offers a variety of exceptional filaments, including their unique matte PLA, which takes 3D printing to the next level in terms of aesthetics and quality. It has no glossy, plastic look and is ideal for industrial and product design, as well as technical engineering models. It produces a matte finish surpassing ABS, while retaining a PLA-like level of printability and useability, including low odour.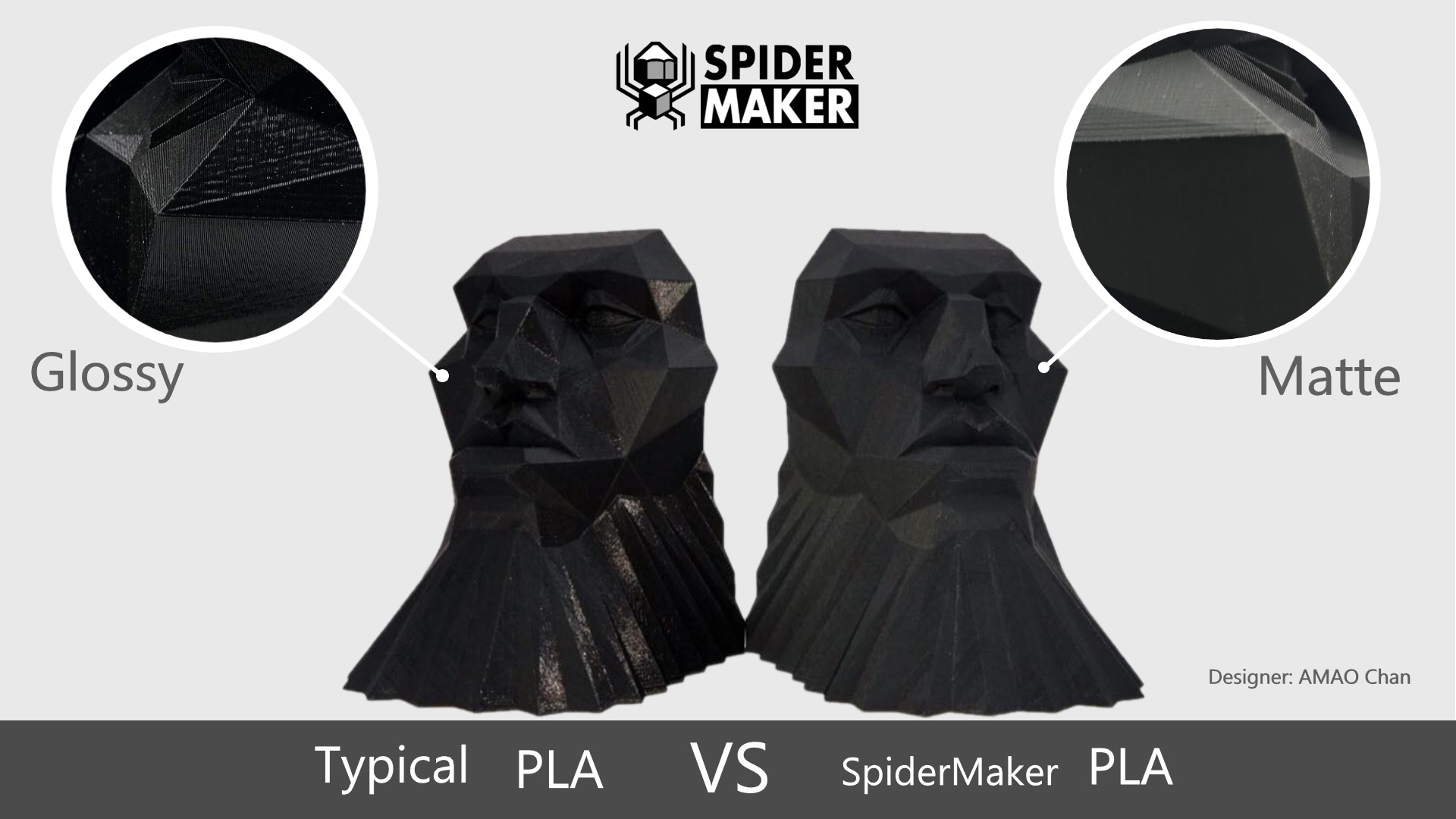 The matte finish PLA is also great for applications where it's essential to reduce reflectivity, for example, in making hoods and surrounds for camera lenses. And, perhaps most importantly, this finish also allows your designs to truly stand out. Fine details that would normally be glossed over by a regular, shiny PLA, are clear and unobscured.
Plus, unlike standard PLA filaments, SpiderMaker's isn't brittle: It is incredibly bendy and extremely tough. In fact, you can tie it in a knot without it even breaking. This means you have greater peace of mind when printing and don't need to worry that the filament could snap midway through a print.
Once the print is done, you'll be able to save time on post-processing, because the matte PLA leaves fewer strings behind. Its supports are also very easily removable — even children can remove it without fear of hurting themselves. And, due to its physical softness, SpiderMaker matte PLA is easy to sand, carve and cut. These valuable features are almost exactly like ABS when it comes to post-processing.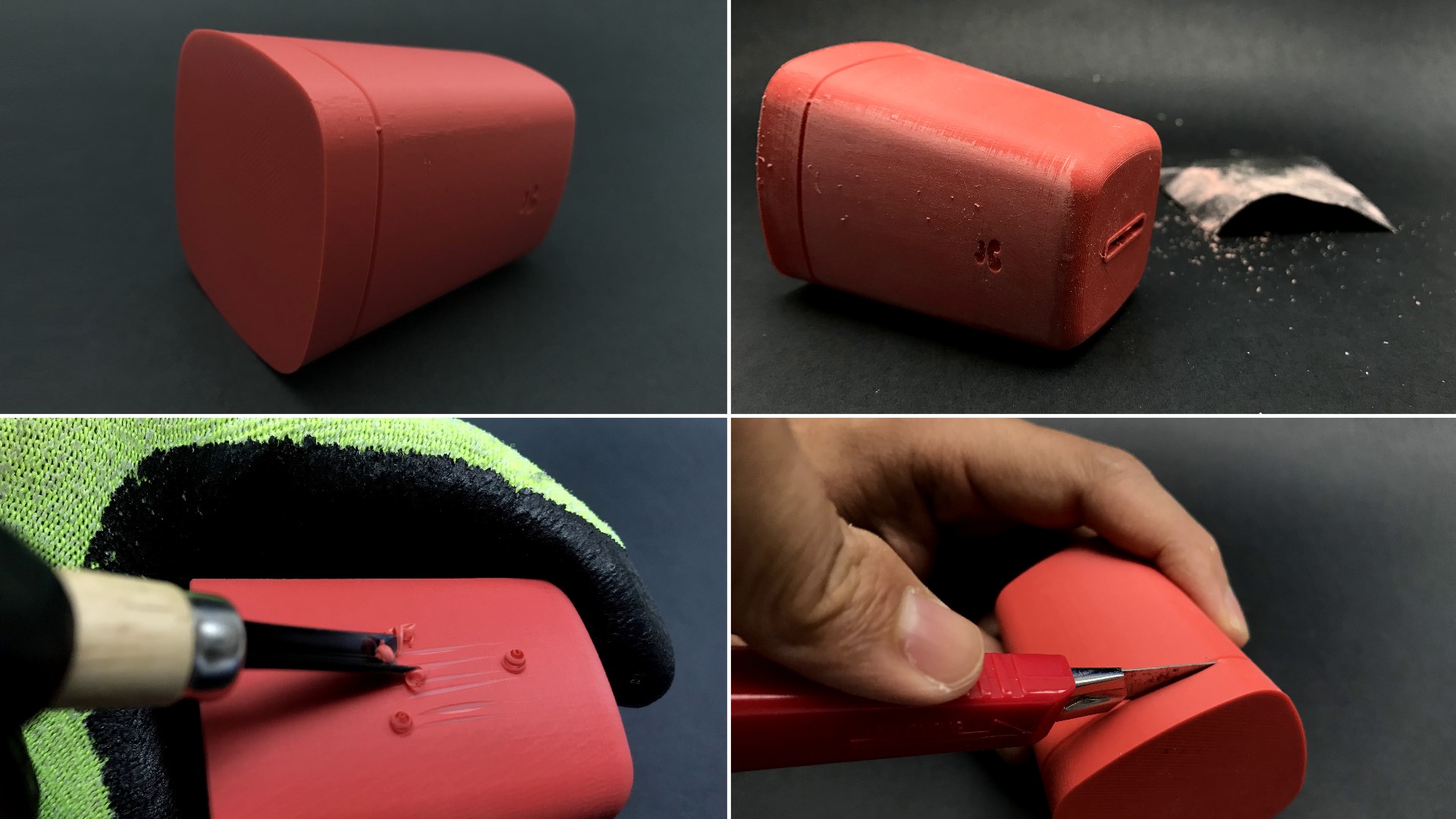 The printing parameters are fairly standard: This PLA works best at a temperature between 210~230°C and it can be printed at 10 to 60 mm per second.
SpiderMaker filament comes in a sturdy cardboard box which converts into a free-standing dispenser. It won't collect dust, unspool or try to roll away, making storing the filament a snap.
Vibrant hues like Steel Blue, Wasabi Green, Orchid Purple, Coral Red and Sun Orange are among the 18 warm colors SpiderMaker offers. They were inspired by nature and created in collaboration with Amao Chan, a world-renowned 3D printing artist. The colors work well in harmony with one another to showcase your unique style.
As for what's next for the innovative company, SpiderMaker plans on expanding its range of filaments and offering a wider variety of colors to Western markets.
Where to buy: SpiderMaker 3D printing filament is available to purchase at Amazon.
—
This content is sponsored and the views and opinions expressed within it do not necessarily reflect All3DP's editorial stance.
For more information, please see our Terms of Use.