What happens when you blend "organic design" and and "innovative use of 3D printing"? The answer is the limited edition Ionic Sound System from Czech design studio, DEEPTIME.
This sound system is the first commercially available studio set made with binder jetting technology. The design and technology studio was set up by Martin Hreben and Ondrej Chotovinsky who believe their new system will appeal to design lovers and audiophiles thanks to its "excellent sound quality."
The system consists of two passive satellite speakers and one active subwoofer. Its sand enclosures were designed to appear seamless, improving both the appearance and acoustics of the system. The design also enables an output power of up to 80 W / 160 W (RMS / PEAK power).
Martin Hřeben said: "For us, the design means looking for the form that reflects the nature and function of the product and builds on the benefits of the newest available technologies. We don't want just to embellish existing standard solutions. That is the reason why our speakers do not use the standard cube or block shaped enclosures. Instead, we employ organic shapes designed to enhance the sound quality."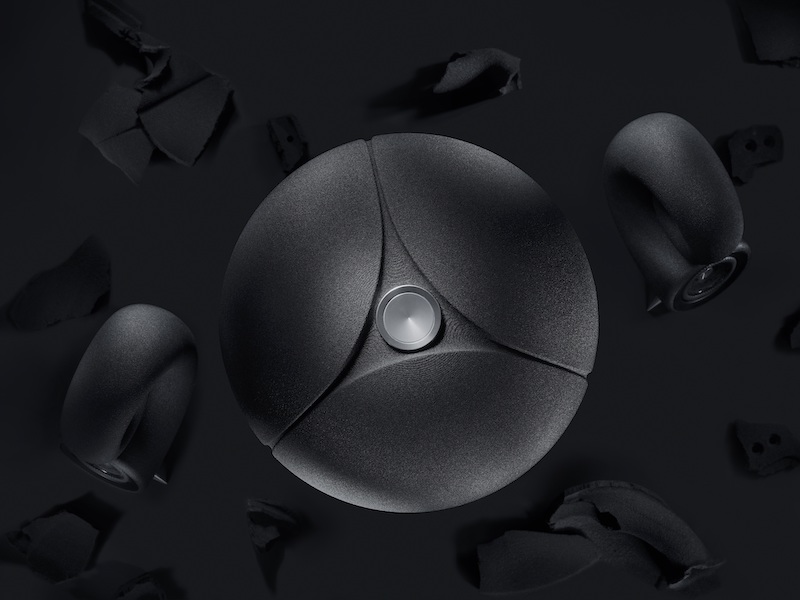 Finding Inspiration in Nature
Hreben and Chotovinsky have experience working for companies such as McLaren, Honda, and Skoda. They used their experience of industrial design in the automotive industry to create circuit boards which drive the audio system and also to design a unique appearance for the Ionic Sound System.
"We find inspiration mainly in nature. All shapes in the natural world are functional in one way or another. You'll have a hard time finding regular cube or box shapes in nature," adds Chotovinský.
Once the design was created, all the components, including electronics, control rings and connectors, were custom manufactured. As many components as possible were 3D printed with the binder jetting technology. This process is predominantly used for printing molds for metal casting.
Then, the studio used a technological process of pigments and hardeners to turn fragile and porous sand prints into resonance-free forms.
In future, the studio explains that there will be expansions made to the Ionic Sound System including speakers of different sizes, multiple color variants, and surface finishes. Visit the studio's website to learn more.