Another day, another Cura update. This time around, the 3D print preparation software boasts usability improvements, which the company claims will simplify 3D printing workflows.
As well as improvements to the user experience, further changes can be found in Cura 4.2's object list, slice button, and expanded support for third-party 3D printers (including the expansive Creawsome mod — giving definitions for most Creality printers).
Cura 4.2 is available from the Ultimaker website, here, or via an in-app popup in older versions of Cura. Read on for a breakdown of the key new features and other nips and tucks the Cura community and developers have been cooking up for this update.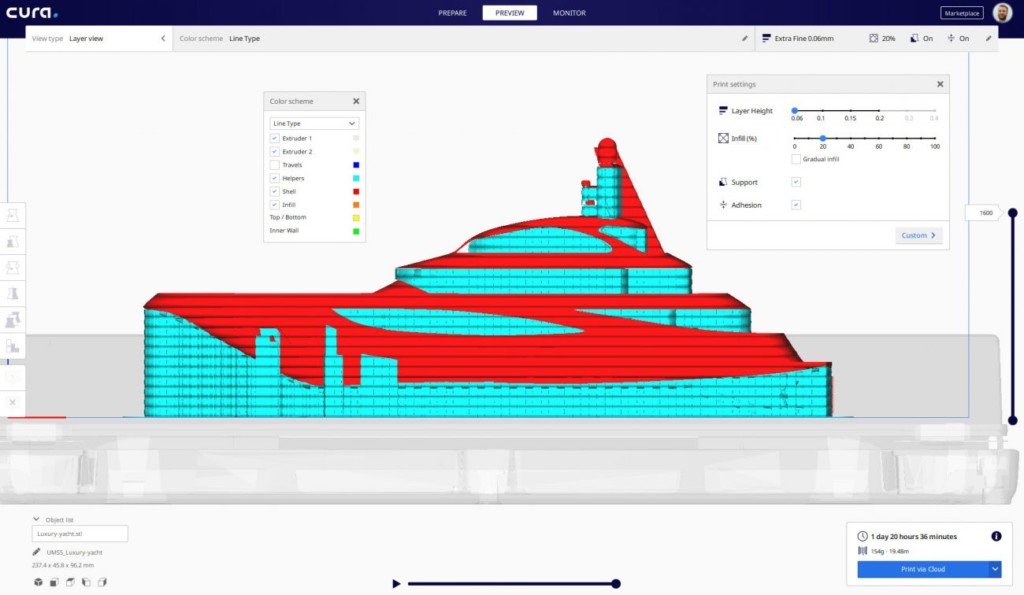 New Features of Cura 4.2
Ultimaker claims this version of Cura provides the best user experience yet. Its latest features include:
Orthographic View – this view enables users to compare the dimensions of a model before printing begins.
Object List – thanks to a new pop-up list, users can identify corresponding filenames and models. For instance, if you click a filename, a model will highlight.
Layer View Line Type – new colors for infill (orange) and support interfaces (blue) have been added, making them easier to distinguish.
Slice Button Delay – now, after you click "Slice," the text will change to "Processing," helping to avoid any confusion.
Nozzle Switch Prime Distance – a new setting lets you fine-tune the restart distance to take into account the fact that some materials ooze during long moves.
Smart Z Seam – this option improves the look of your prints. It will analyze your model's geometry and automatically chooses when to hide or expose a seam, ensuring there are fewer eyesores on outer walls.
Ultimaker claims that the program is more stable than ever with this new update. Known issues with font rendering, unnecessary travel moves, prime tower overlaps have all been addressed.
To find out more about the features of this new release, visit the Ultimaker website where you can also download Cura 4.2 for free.