A smart city in Shanghai unveiled China's first 3D-printed footbridge, a 15-meter long structure which crosses a small lake in a park.
"Many people have never touched a 3D-printed object and they still think of it as part fantasy and part future tech," said Polymaker, a 3D printing filament manufacturer. It supplied the materials and designed the plastic filament used for the build.
"So projects like this do a lot of good in terms of exposing the public to the reality and the possibilities of 3D printing," added Polymaker.
The bridge is located in the Taopu Smart City complex in the Putuo district and is sturdy enough to hold the weight of four adults per square meter. Shanghai Machinery Construction Group built the printer and Coin Robotic manufactured the extruder system.
They invested about $2.8 million into the printer's construction.
"It's both an everyday, practical application and an interactive one that involves people touching and even relying upon … a 3D-printed thing," explained Polymaker of the bridge.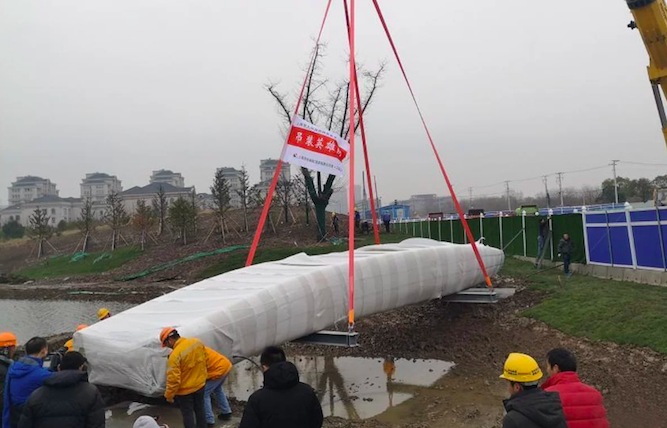 3D Printing a Footbridge with a US $2.8 Million Machine
Before any 3D printing took place, the team in charge of the build spent a year and a half researching and planning. The result was the "world's largest plastic 3D printer".
This machine then took 450 hours to print the 3.8 metres wide, 1.2 metres deep and about 5,800 kg plastic bridge. Polymaker provided acrylonitrile styrene acrylate (ASA), or plastic filament combined with glass fibre, for the build.
It chose ASA because it is weather resistant, tough and offers thermal stability and chemical resistance. The glass fibre reduced the warping effect of 3D printing that is noticeable when creating large prints. It also added strength to the bridge, whose engineers expect will last about 30 years.
The Shanghai government said the bridge is an "innovative way to promote 3D printing technology and popularise it in urban construction."
Although this bridge is cause for celebration, it's not the first 3D printed bridge in the world. The world's first 3D-printed pedestrian bridge was completed in Madrid in 2016. Check out these three amazing 3D printed bridge projects to discover more on the topic.
Source: South China Morning Post, CGTN and Polymaker Press Release