Anelia Myburgh is a 31-year-old from Melbourne, Australia who lost 80% of her top jaw due to cancer. She was diagnosed with the disease after noticing a small bump above her teeth which was causing them to move.
Just a week later in April 2017, she was diagnosed with jaw cancer. Surgeons treated the disease by removing a large section of her upper jaw. Luckily, they were able to remove the life-threatening disease but Myburgh was left feeling self-conscious.
Not long after, when taking the train, she noticed people taking photos of her face. So, she stopped leaving home and would wear a surgical mask when she did.
She explains: "I just want to be able to walk down the street and not have people stare, that's my ultimate goal… They removed the majority of the upper jaw, so I only have the two back teeth on each side left, they removed a portion of the lip and some under structure of the nose area."
However, Myburgh was told that surgeons couldn't do anything more for her and that she'd need to learn to live with her disfigurement. So, she began doing some research of her own and stumbled upon the idea of 3D printing.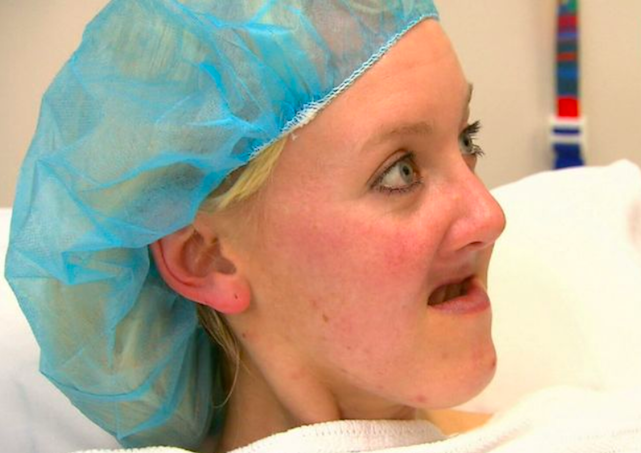 3D Printing a New Titanium Frame Jaw
Myburgh's research led her to Melbourne based maxillofacial surgeon, George Dimitroulis. He was able to create a custom 3D printed jaw which had a titanium frame able to carry bone grafts.
Dimitroulis said: "The fact that we can 3D print a frame where we can actually anchor some teeth for her will give her back her quality of life."
However, Dimitroulis began the procedure by 3D printing a pre-surgical model of Myburgh's jaw and another model of what her jaw would look like with the titanium frame.
The surgery to fix Myburgh's jaw took five hours and cost AUS$30,000 (US $22066). Dimitroulis took skin from Myburgh's forearm to add to her upper lip and implanted teeth.
However, surprisingly, the surgeon explains that the surgery wasn't the hard part. It was the healing that was concerning. Although it took months of recovery, the time and money was more than worth it for Myburgh.
She now feels confident once-more and adds: "I'm looking forward to gradually finally getting that burger."
Source: Nine News