Researchers from the Centre d'Optique, Photonique et Laser (COPL) at Université Laval in Canada have detailed their efforts to be the first to 3D print chalcogenide glass. The findings, published recently in The Optical Society (OSA) journal Optical Materials Express, present a possible new future of low-cost and complex photonic components and glass-infused materials with unique optical properties.
"This new method could potentially result in a breakthrough for efficient manufacturing of infrared optical components at a low cost" explains Yannick Ledemi, a member of the research team.
Using a commercially available fused deposition modeling 3D printer as the technological basis for their work, the researchers created a custom filament stock from chalcogenide glass, printing it much as one might print PLA or ABS. Using this method, the researchers were able to create basic shapes useful for creating optical components to operate at mid-infrared wavelengths.
The researchers believe that their work could provide a low-cost manufacturing alternative for producing telecommunication components, sensors for pollutant monitoring, and biomedical devices.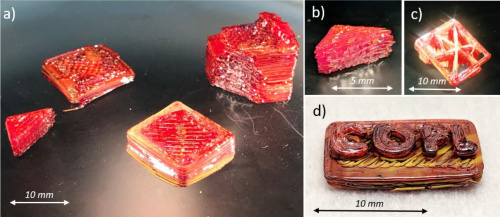 3D Printing Chalcogenide Glass at 330 °C
One of the reasons it was possible for the researchers to print glass using what one might consider basic tech, is that chalcogenide glass softens at a low temperature than other types of glass that would need a furnace to form. Indeed, at the relatively low temperature of 330°C — possible on the desktop printer thanks to some small modification –extruding chalcogenide was possible.
The researchers created chalcogenide filament that performs similarly to the plastic filaments usually used for commercial 3D printers.
"Our approach is very well suited for soft chalcogenide glass, but alternative approaches are also being explored to print other types of glass," said Ledemi. "This could allow fabrication of components made of multiple materials. Glass could also be combined with polymers with specialized electro-conductive or optical properties to produce multi-functional 3D printed devices."
For now, the researchers are working on improving their method to increase the 3D printer's performance and to produce more complex parts. They also plan to add extruders to print polymers and develop multi-material components.
Source: The Optical Society