Fans of chocolate may be familiar with World Chocolate Day, but true chocoholics will be excited to learn Cadbury launched its first-ever milk chocolate 3D printer to celebrate this year.
Noshing on 3D printed chocolate kicked off on July 7 and will run till July 28 or as long as stocks last, said Cadbury in a press release. Although Cadbury is billing this printer as a world first, we've seen chocolate being printed in a myriad of shapes for years.
Unfortunately, the 3D printed chocolate is only available to sweet tooths living in Melbourne, Australia. But, Melbournians visiting the Myer Chadstone department store can take home "milk chocolate charms" for the rest of July. The chocolates are built up layer by layer at the Cadbury Dairy Milk activation. The 3D printed shapes include stereotypical Australian symbols such as kangaroos and "thongs".
"We're absolutely thrilled to be launching the world's first Cadbury Dairy Milk 3D Printer, in celebration of World Chocolate Day," said Cadbury Dairy Milk team marketing manager Katrina Watson to news.com.au. "Cadbury Dairy Milk is Australia's most loved chocolate brand and we are so excited to be able to share an entirely new way to enjoy it with Australians."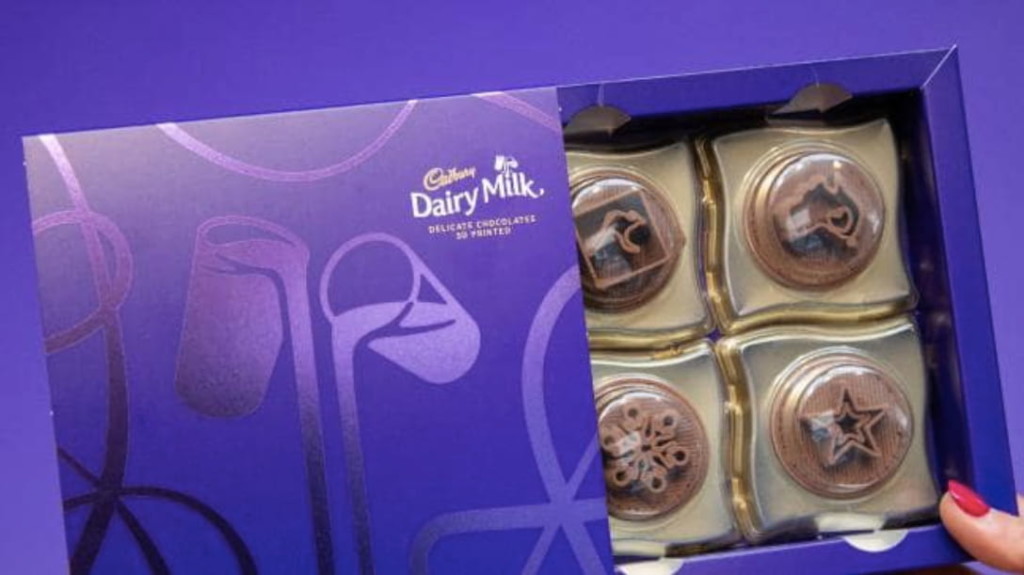 $5 USD for Two 3D Printed Chocolates
Two Dairy Milk chocolate charms will cost $8 AUD (around $5 USD) or four will cost $15 AUD ($10 USD).
For those not interested in the fad and more interested in the chocolate, you can buy a 100g bar of Dairy Milk in Australia for $2.40. It is expected that 200,000 Cadbury Dairy Milk chocolate bars were bought this past World Chocolate Day.
Sadly for chocoholics worldwide, it doesn't seem that this printer will be available anywhere else and is simply a one-off occurrence. Cadbury has not released information on printer specifications or pricing, but we do know that it made a long trip from the UK.
Source: Press release & news.com.au
Feature image source: Cadbury