In a recently published paper, bioscientists at Rice University and the University of Maryland report that they are working together to 3D print artificial tissues to help heal injuries to knees, elbows, and ankles by healing bone and cartilage.
Rice University graduate student and lead author of the paper, Sean Bittner, said: "Athletes are disproportionately affected by these injuries, but they can affect everybody. I think this will be a powerful tool to help people with common sports injuries."
The work of the researchers is to mimic the characteristics of osteochondral tissue by engineering scaffolds which have hard bone underneath a layer of cartilage.
Currently, if elbow, ankle, and knee bone or cartilage are damaged, not only is it extremely painful but, an athlete's career could be over. Worse yet, those who suffer from these injuries are more likely to develop disabling arthritis.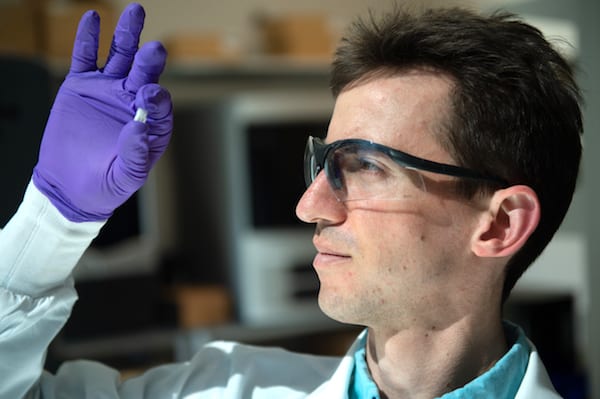 Customizing 3D Printed Osteochondral Implants
The scientists explain that it's been a difficult process to mimic the "gradient nature of cartilage-into-bone and its porosity" in the lab.
But, 3D printing enables them to fabricate a suitable material using custom mixtures of a polymer for cartilage and ceramic material for bone. The artificial bone also includes pores which a patient's cells and blood vessels infiltrate. The idea is that once this happens, the 3D print will become part of the natural cartilage and bone.
"For the most part, the composition will be the same from patient to patient… There's porosity included so vasculature can grow in from the native bone. We don't have to fabricate the blood vessels ourselves," explains Bittner.
The scientists still have a lot of work before this technique is used on patients. But, the next step is to find a way to print an osteochondral implant to fit a patient enabling it to grow and work with the natural bone and cartilage.
Source: Rice University