Gässli Film Festival director Giacun Caduff was in a bind. There were just a couple months left till the start of the festival and they still didn't have trophies for the winners.
"I was a bit under pressure because I'd promised the festival and the funding people that we were going to do this and suddenly we didn't have a way to make it happen," said Caduff.
Initially, a friend had been set to print the awards, but when it turned out he'd sold all his 3D printers, Caduff had to find an alternative — and fast.
"I had given somebody the job to find every 3D printer once I started realizing that my local connection wouldn't be able to handle the order," said Caduff, adding it would also be "really pricey."
Luckily, someone found All3DP's price comparison 3D printing service, Craftcloud, which let Caduff compare prices between the leading 3D printing services and pick the cheapest option.
"Without All3DP, there would be no prize," said Caduff. "We submitted a web form and then it was pretty fast contact and a smooth process," recalled Caduff.
"It was great because I felt like we were in a good dialogue, so when they started advising me on the weight and giving me the approximate weight I knew we were at the right place."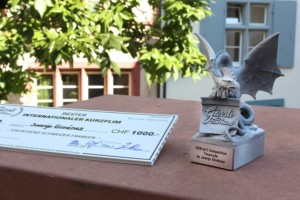 Gässli is a small, annual festival in the medieval city of Basel, Switzerland that has welcomed almost 5,000 visitors every year since 2009. It takes place in a small alley, called a Gasse in German and is for up and coming filmmakers.
The films are shown in this cozy alley which fits about 300 people and sports a retractable roof in case it rains. It's home to a beautiful tree with long, leafy boughs that shade visitors during sunny days.
The design of the award was important to Caduff and the team. Since the festival began, they'd given out oversized checks to the winners, but he'd always wanted to have a meaningful trophy to present.
"I was like if we do it, we do it right," said Caduff. "And we waited 10 years for that."
When it came to deciding exactly what the trophy should be, the idea of a basilisk came fairly early on.
"I was going to give away the golden squirrel because I like squirrels, but there's no connection — it would just be me choosing an animal," he laughed.
Then, inspiration struck during a hike in Basel.
"I found a big, big – I mean this statue is really super big – this basilisk, which is the animal of the city. I was like, Wow.'"
Legend has it that a basilisk used to live in a cave before the villagers built the city on top of him. This made him furious and if anyone met the basilisk and looked into its eyes, they'd be immediately turned to stone.
Caduff later found out that the alley where the festival takes place is right next to where the basilisk's cave was.
"Everything came together, it was really incredible," recalled Caduff.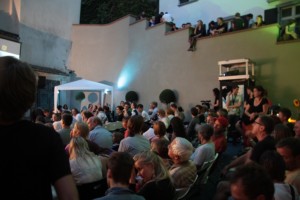 With the city of Basel's blessing, on a cold morning, a friend of Caduff's made a 3D scan of the statue.
The only difference between the original statue and the award – besides the size and material – is instead of holding a crest, the basilisk holds a slate that says Gässli Film Festival.
When creating something as special as an award winners would hopefully keep forever and proudly display, it was important to the film festival team every detail was perfect.
"My problem was I knew what I wanted and I kind of knew everything was possible," said Caduff.
What he wanted was an elegant, solid, metal award to give to category winners and the special guest of the festival — delivered quickly with no hassle. The key for the festival was to find a company that could handle the order and didn't require the customer to learn a whole new field.
Craftcloud's customer-focused care ensured Caduff and the Gässli Film Festival got exactly what they dreamed of.
After the design was settled and the 3D model ready to be printed in steel, the next hurdle was the time pressure.
To Caduff's relief, he recalled, "They did it so fast and it was at our house, it showed up like two weeks later and it was perfect."
This year, Gässli will be ordering more trophies and some other goodies, which Caduff is already looking forward to.
"I just needed to trust All3DP and the trust was perfectly respected."