Few people have impacted modern art and culture quite like Banksy, the anonymous England-based street artist and activist known for fusing political satire with dark humor. His famous graffiti pieces like Rage, the Flower Thrower and Napalm Girl have stirred controversy that has only been amplified by his mysterious persona.
More recently, the elusive artist took his unique form of social commentary to new heights during a live performance piece that was being sold at the prestigious Contemporary Art Evening Auction. As visitors battled to outbid each other for a painting that was previously entitled Girl with Balloon, a very strange occurrence took place as the auctioneer's hammer fell.
Once the framed picture was sold, a part of the canvas suddenly passed through a hidden shredder inside of the frame, simultaneously destroying a piece of art while creating a new one. In fact, once the bottom half of the canvas was cut into pieces, the name of the artwork was officially changed to Love is in the Bin, marking yet another one-of-a-kind creation by the mysterious Banksy.
New York-based designer Dave Buchanan recently created a replica of Banksy's latest work, 3D printing a miniature version of the picture frame and hand-painting his own Girl with Balloon on canvas. After some trial and error, the maker has shared his latest version of the project on Thingiverse, so now you can do your best Banksy impression as well!
Buchanan's project uses a ruse called the classic money printing trick, using a simple belt drive that pulls in the framed paper while pushing out a hidden version. Traditionally used to create the illusion that the trickster is printing money, this maker also used this mechanism to create the impression of shredded art. With all the mystique surrounding Banksy's version, it's possible that even he used this trick for the original performance.
Let's take a closer look at how you can create this 3D printed replica of the self-destructing Love is in the Bin.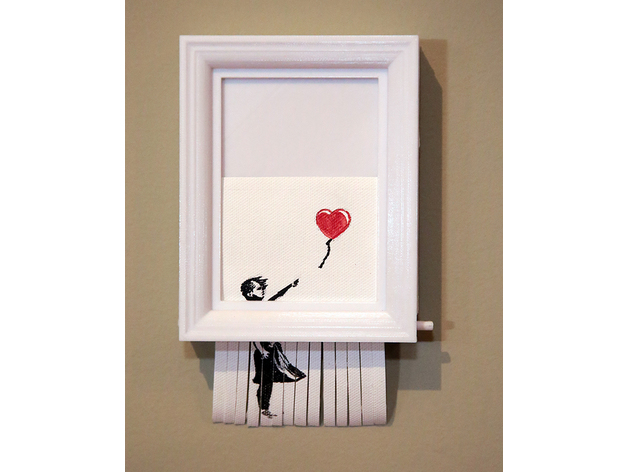 3D Printed Banksy Frame: What You Need & How to Build it
The STL files for this 3D printed picture frame are available via Thingiverse. There are six different parts that you need to print: the frame, back plate, two brackets, and two rollers. Buchanan suggests using support structures when producing the parts, along with 10 percent infill and a resolution of 0.20mm.
Other than the 3D printed components, you'll also need tracing paper and four #6 – 1/4″ wood screws. You'll also need some paint or markers to conjure up the creative spirit of Banksy on your tracing paper canvas. In order to fit properly into the frame, the tracing paper should be cut to measure 3 x 6 inches.
Once the 3D printed frame and roller mechanism are assembled together, you can insert your artwork and test out the optical illusion. It's worth noting that the designer hasn't tested this new version yet or released detailed instructions, so it might take some trial and error to get it working. Feel free to check out Buchanan's Reddit post and Thingiverse page to keep track of any future updates.
And, to learn more about how the classic money printing trick works, check out the video below.