The "world's first" 3D printed, continuous carbon fiber single-piece unibody frame is being developed by Arevo, a Silicon Valley company, in partnership with boutique bike manufacturer, Franco Bicycles. The frame is being developed for a new line of eBikes which will be sold under Franco's "Emery" brand.
"We chose AREVO technology because its iterative and flexible design represents the new age in composites manufacturing, and we wanted to be the first bike company to help lead this revolution," said Hector Rodriguez, Co-Founder of Emery Bikes. "AREVO's continuous carbon fiber technology has been instrumental in achieving the ride quality and high-performance requirements we set out to accomplish with the Emery ONE."
Arevo developed a carbon-fiber 3D printed eBike last year and its technology is changing the industry standards for high-performance bikes. The Emery ONE eBike will be no exception.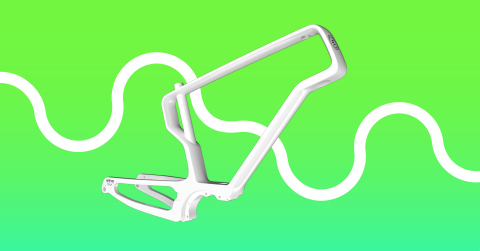 Creating the Emery One eBike with Arevo Technology
To design a frame which could be printed as a single part, renowned industrial designer Bill Stephens of StudioWest was on hand, as well as Arevo DNA technology.
Arevo claims that this technology is unique in the 3D printing world. Its benefits include providing direct energy deposition for virtually void-free construction, optimized for anisotropic composite materials and free-motion robotics for "True 3D" construction.
Current composite frames are made from gluing multiple parts together. By printing with Arevo's continuous carbon fiber placement, no glue is needed and greater stability and structural integrity are achieved.
Better yet, this process reduces the time it takes to manufacture a bike frame from 18 months to just a few days while also reducing development costs and waste. The frames are now in production at Arevo's multi-purpose facility in Milpitas.
"This is the first Composite Additive-Manufactured bike frame and it represents an important milestone for the AM industry as AREVO is delivering on the promise of on-demand manufacturing of composite parts in volume now," said Hemant Bheda, AREVO Co-Founder and Chairman. "With the introduction of the Emery ONE, the transformation of the global composite bike industry has begun."
The Emery One eBike will be on display at the Sea Otter Classic bicycling event in Monterey, California until April 14th.
Source: Business Wire