If you're a sky gazer, you may want to consider 3D printing your own telescope. As Robert Asumendi found, the technology can be extremely useful for customization.
Asumendi began with a design, a desktop 3D printer and built his own telescope which addresses his severe astigmatism.
He explains: "3D printing allows you to imagine something entirely new and hold it in your hands a few hours later. I found there were no existing off-the-shelf telescope parts to meet my design goals, and discovered the geometry of some of those parts would be really challenging and expensive to machine."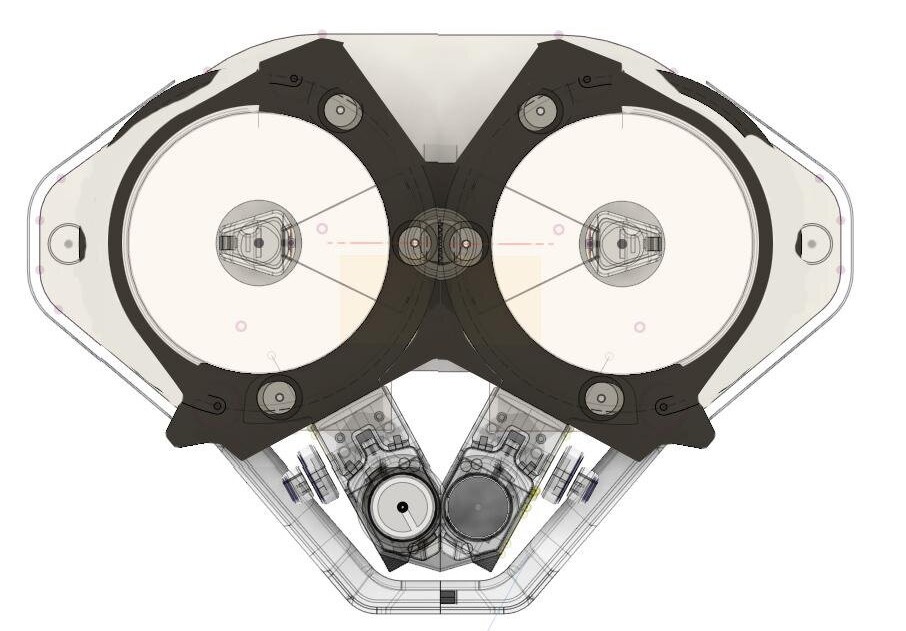 As he has a background in graphic design and considerable experience in 3D modeling, all Asumendi needed to do was learn how to use CAD programs and start 3D printing in order to create his "giant space binoculars". The 8″ f/5 primary mirrors collecting enough light to let you explore objects in deep space. And thanks to the 2″ eyepieces you'll get everything in sort of a Cinemascope wide, 2+ degree field.
The Drifter is designed similarly to binoculars so that the user can simply grab the eyepieces to adjust the pupil distance. This is unusual for such a telescope, but makes a lot of sense.
But that's not the only thing that's amazing. The eyepieces are interchangeable and click into place by Neodymium magnets. Same goes for any filters… exchanging them is just a matter of seconds instead of minutes. The design uses a three-mirror system, not often seen in modern telescopes.
"I've had the Drifter set up at star parties where 50 people cycled through the scope one after the other, and everyone was able to get a sharp, beautiful view with minimal or no instructions," explains Asumendi.
Public Star Parties Made Possible with 3D Printing
Asumendi explains that his biggest design challenge (aside from none of the necessary parts yet existing) was keeping six mirrors all perfectly aligned from horizon to zenith. He describes balancing everything from durability to manufacturability while keeping the telescope lightweight as a "tug-of-war".
He adds: "It's also gratifying when people with vision problems like macular degeneration, astigmatism, or just extreme myopia look through the Drifter and say things like, "Wow, I've never been able to see anything like this through one eye," or "I was thinking of quitting astronomy because my vision has gotten so bad, but this gives me hope." The true advantage of binocular vision is the image processing power of your brain. Accessibility, check."
The current goal is to launch the Drifter in October and start a crowdfunding campaign. This will raise funds for a manufacturing space and a high-quality 3D printing capacity. With this, Asumendi plans to test more accessory configurations and put in wholesale orders for a few hundred mirrors.
You can find out more about the project on the Analog Sky website or via social media.
Source: Phys.org