All it took was one SLA printer for US furniture chain Ashley Furniture to become a 3D printing convert.
It quickly discovered having a 3D printer on site dramatically improved production. The company now has two machines and 700 3D printed parts on its factory floor in Arcadia, Wisconsin.
It all began after Ashley Furniture installed its first SLA printer. An engineer asked whether it was possible to replace machined alignment pins with end-use 3D printed parts.
The answer was yes, and the result was a reduction in long lead times. Thus began the company's success with in-house 3D printing and led to many more questions.
The technology now saves significant time and costs, says Ashley Furniture in a press release, ensuring products are brought to market in a shorter period. The company also claims the technology empowers staff to be more productive, enabling them to focus on more creative pursuits.
Vaughn Pieters, the senior director of casegood operations, said in the release: "We're doing 10% more business out of our Arcadia facility alone with probably almost 15% less labor."
Additive manufacturing is regularly used as a problem-solving tool and has resulted in the creation of tool guides to help workers easily check drill bits and reduced the need for minimum order quantities of outsourcing.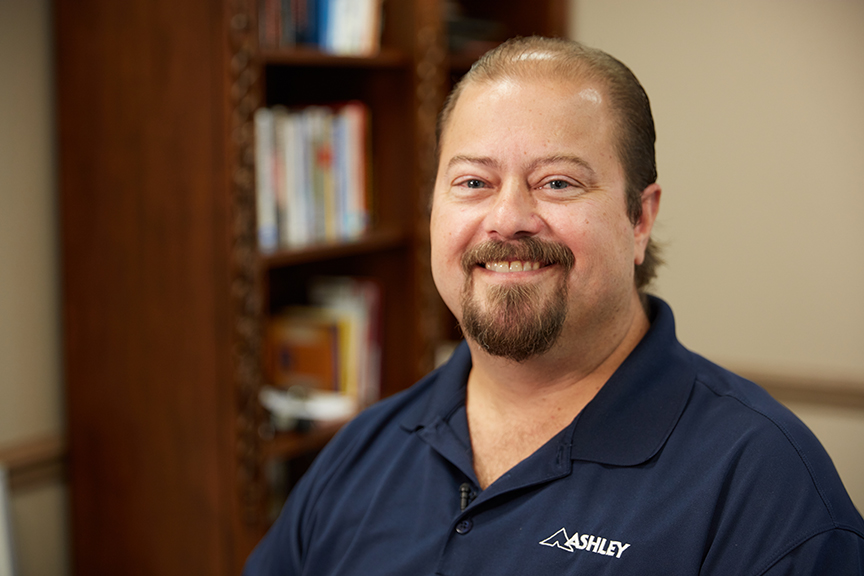 All Ashley Furniture Employees Understand the Value of 3D Printing
The company was launched in 1970 and has grown to be the largest furniture manufacturer in the world, producing over 300,000 pieces every week for its almost 1,000 stores.
To ensure its business stays relevant, the company focuses on having a "culture of change" and "a model of continuous improvement" which is why it decided to turn to 3D printing to reorganize manufacturing processes from fabrication to assembly.
Ashley's culture is to encourage employees to ask questions and participate in continually improving the business. Therefore, everyone at Ashley Furniture, from line worker to CEO, knows the value of 3D printing and how it can help bring new ideas to life.
"Automation has really allowed us to remove some of that heavy physicality that manufacturing has had the stigma of over the last 50 to 60 years," says Pieters. "We don't have employees doing that heavy bulk work all day long anymore. Let the machine do that. Let the employee use their mind, try to better the process."
Source: Press release