3D printing emerged from stereolithography, fused deposition modeling, and laminated modeling. Various other technologies contributed to its rise and democratization in the 1990s, freeing it from the craft manufacturing fetters by which it was confined.
Such democratization inevitably alleviated tooling costs and enabled individuals to make parts at sites of production located in domestic communities globally (Richardson & Haylock, 2012).
With the endless manufacturing possibilities unlocked by this relatively new technology, the automotive industry—once known to carry out operations single-handedly via major plants across the world—is bound to shift towards a multi-source procurement method. Below is an overview of the key players' roles, and the industry's current state.
The Bigger Picture
Current State and Implications of 3D Printing in the Automotive Industry
Traditionally, the auto industry uses 3D printing and additive manufacturing (AM) means for 1) prototyping and modeling, and 2) design verification and assessment; that is for their use in the major leagues. When we address the craft side of things, there has been a rise in using 3D scanners to reverse-engineer auto components of all kinds (mostly inner and outer decorative parts) and to provide the aftermarket with custom parts.
Case studies include the left-hand/right-hand side conversion of vehicles for the European market, rerouting exhaust pipes, etc. Also, with reliable, compatible scan-to-CAD-to-print software, individuals and SMEs alike can come up with cheaper alternatives to the acquisition of custom and reverse-engineered car components. Measuring and analyzing with the help of 3D scanners has significantly altered re-engineering means from a historical standpoint.
Whereas etalons (standards) and gauges have proven useful for repeatability and inspection in manufacturing since the Industrial Revolution, 3D scanning—over time—unlocked precise measurement methods with objects and parts from the real world (on a production line and on the market, for instance).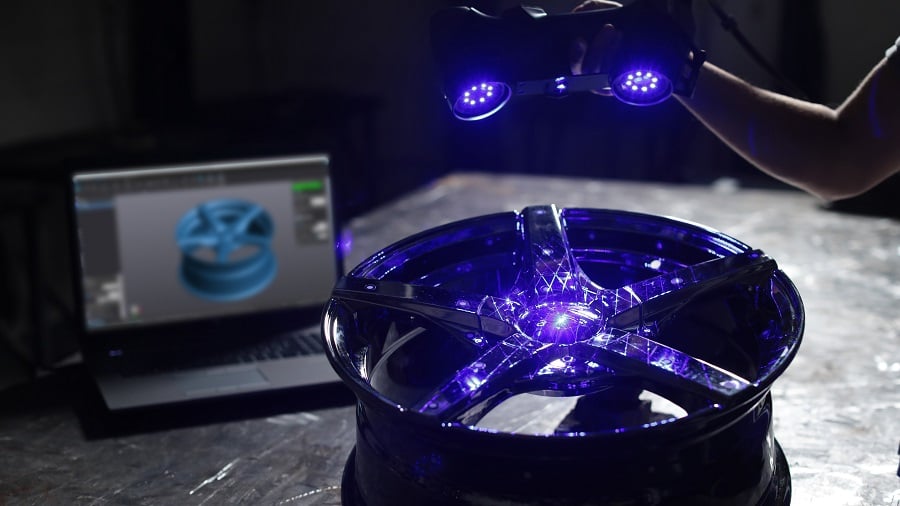 Yet Not Critical
Given the technological means at hand, the industry is not yet ready to review and approve the actual manufacturing of critical auto parts through expert—although non-regulated—craftsmanship.
The parts are deemed critical because of the environment, stress, fatigue and wear they will be experiencing during their service life. Material and tolerances are therefore a dominating factor. We are referring among other things to engine parts, suspension and steering components, where mechanical, thermal, strength and longevity properties need to be thoroughly assessed before anything hits the market.
What we might see in the near future is a certification process through which manufacturing companies could go to be part of a bigger, intersectoral mass-production model.
Such a model would eventually lead to reductions in development efforts, costs, and time, and to an increase in development and production rates. Although this is a longshot, the addition of this third-party link in the chain could potentially up the employment rate and help domestic economies to grow. Not only via job creation but also by reducing the cost of replacement and service parts in the midst of the aftermarket industry.
While we are still a long way from the standard homemade 3D-printed car, 3D printing pioneer Local Motors introduced in 2014 the first vehicle produced entirely using this technology. They would later be known for developing Olli, the AI-driven minibus, based upon the same premise.
It's More Than Just a Fling
Who Is Using 3D Printing in the Automotive Industry?
Automakers of all stripes compete in the framework of Industry 4.0: Daimler has been using 3D printing technologies for the last 25 years, BMW Mini explored car customization by means of the same tech and Mercedes-Benz announced 3D-printed parts for its classic models in 2018. Ford, for its own part, as an early investor in 3D printing technology, opened the Advanced Manufacturing Center, boasting over twenty printers, augmented reality and cobots (Watkin, 2018). 3D scanners are thus used for simulation, 3D comparison and inspection, whether in VR or in real life.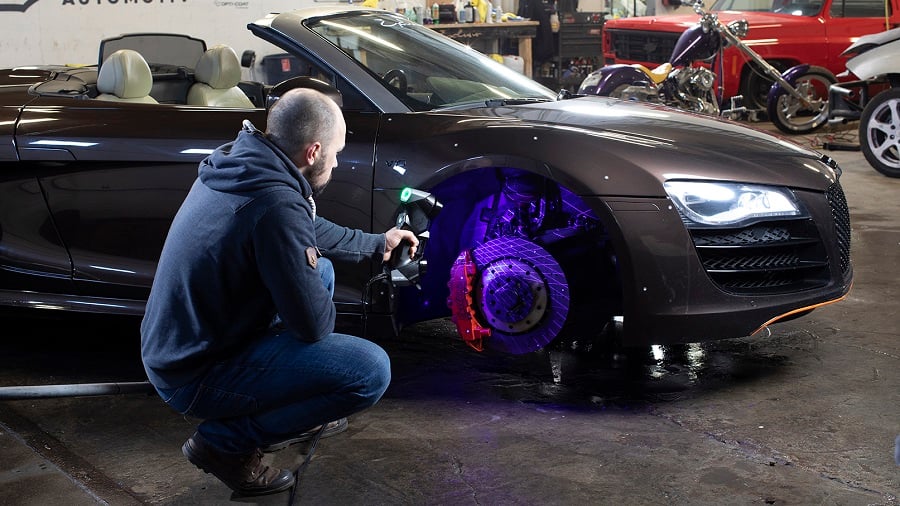 With little to no CAD files on hand, measuring and re-engineering parts for the automotive industry becomes a challenge because traditional manual methods cannot cope with new car models being launched each year, each bearing its own complex geometrical shapes. Repeatability being key, 3D scanning offers highly detailed data for third-party manufacturers who use 3D printing, providing customers with a wide range of parts and accessories made available as soon as a new car model is out.
The same goes for vehicle conversion and reconditioning, and part replacement for vintage cars. To what extent is AM used in production, and which parts get to the consumer? For the moment, it's mainly brackets and housings. But the research and development efforts that go into these ventures will probably prove worthy in the next decades.
Disruptive but Hindered
Already part of this disruptive tech revolution, 3D printing companies have their own set of challenges: they are pushed by the automakers and the market to develop devices and methods to print larger components and larger numbers of components rapidly. But what hinders the effectiveness of AM in mass-production environments? Metallic 3D printing.
Sure, AM companies have found ways to print metal in 3D, for instance via wire-fed electron beam, but the issue resides in the alloys produced and/or the time it takes to print larger parts. A company called Vader Systems developed a process that sprays drops of aluminum to print layers, but time is a sufficient constraint to prevent that method from getting its foot in the door of the industry. The next step is increasing the temperature of print heads to unlock effective printing capabilities with fundamental materials such as steel and aluminum (Freedman, 2018).
While AM has the potential to be found throughout the value chain of new vehicles, it is currently mainly found in the rapid prototyping and design assessment stages (for example, during development).
On the one hand, with the help of 3D scanners and compatible scan-to-CAD-to-print software, 3D printing is, as we write these lines, making its foray into the operations, service, quality management, and traceability steps of the chain, to name a few.
On the other hand, its exponential growth and democratization allow for cheaper tools, devices, and systems, which in the end will give rise to domestic-scale production of components ranging from the simple bracket to the vehicle frame. In that regard, 3D scanning and printing can affect the economic and environmental dimensions of society, from the employment and mobility perspectives.
–
Freedman, J. (2018). Future Uses and Possibilities of 3D Printing. New York, NY: Cavendish Square.
Watkin, H. (December 5, 2018). Ford 3D Print Brackets for Shelby Mustang GT500 Brake Lines. All3DP. Retrieved October 3, 2019, from https://all3dp.com/4/ford-3d-print-brackets-shelby-mustang-gt-500-brake-lines.
Richardson, M. & Haylock, B. Designer/Maker: The Rise of Additive Manufacturing, Domestic-Scale Production and the Possible Implications for the Automotive Industry. Computer-Aided Design & Applications, PACE (2), 2012, 33-48 © 2012 CAD Solutions, LLC, http://www.cadanda.com.
Winkelhake, U. (2018). The Digital Transformation of the Automotive Industry: Catalysts, Roadmap, Practice. Cham, Switzerland: Springer International Publishing.
–
This content is sponsored and the views and opinions expressed within it do not necessarily reflect All3DP's editorial stance.
For more information, please see our Terms of Use.