How does a spicy mountain pepperberry chocolate sound? What about a red bean ganache chocolate? If your mouth is watering, you may want to back a new Kickstarter campaign which blends traditional chocolate making with 3D printing.
Called "Chocolate for the Digital Age", the campaign was launched by Ryan L Foote, a Victorian College of the Arts graduate and artist. For four years, Foote has been based in Melbourne but spent months at a time in Hong Kong.
He's taken inspiration from both countries to develop unique local flavors for his contemporary chocolates which are far from traditional. Examples from Australia include kakadu plum and rose vinegar, avocado smash and eucalyptus and mint dark chocolate. Hong Kong flavors to note are pineapple bun, egg tart, and preserved three-year-old mandarin rind.
To add style to these intriguing flavors, Foote also uses state-of-the-art 3D printing technologies. The chocolate shapes are inspired by architectural and natural shapes. The idea is that the resulting treats entice all of a guest's senses.
As well as 3D printed chocolates, for this campaign Foote also developed a porcelain cup in the shape of one of his favorite chocolate forms. This is the first of an ongoing range of cups. The pledge required for a cup is AU$38.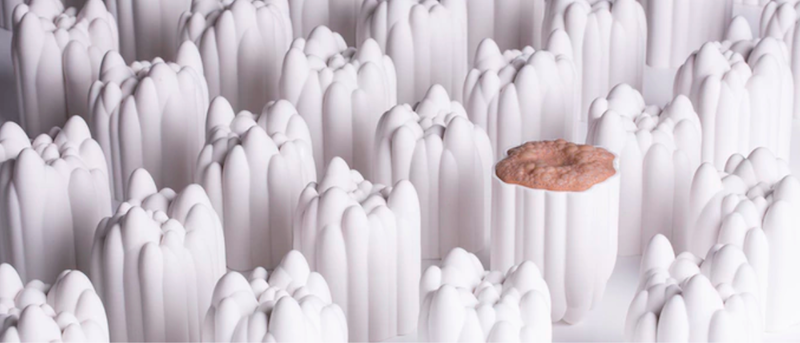 Funding Chocolates for the Digital Age
So far, Foote's Kickstarter campaign has raised $2,615 of its $7,103 goal thanks to 34 backers. There are still 23 days to go. If you'd like to pledge, cheapest option is AU$20 (around 14 USD). For this price, backers receive a box of drinking chocolate.
However, in order to receive a box of 3D printed chocolates, you'll need to pledge AU$33 for four pieces. This is an Early Bird offer saving you 30% off the retail price. These chocolates are so unique and rather pricey that you'll likely want to display them, rather than eat them.
Foote launched his startup chocolate business this year and Chocolate for the Digital Age is the company's first Kickstarter campaign. He explains that he predicts few risks in delivering the chocolates as he has already set up a kitchen space, received the necessary food licenses and refined the designs. Learn more about the campaign on Kickstarter.