There's a revolution happening in education, driven by 3D printing technology like the 3Doodler Pen. A music teacher shares her experiences.
(Editor's note: This is a guest post by music teacher Catherine Dinwal. Text reprinted with the author's permission.)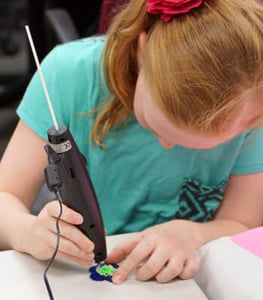 There's a growing 3D Printing movement sweeping through educational institutions. Acquiring a 3D printing tool has become more of a necessity for most classrooms. With prices still high, teachers look to cheaper options to bring learning opportunities for their students to experience printing in 3D.
Scouring through the internet I stumbled upon a Kickstarter campaign that promised just that. A cheaper 3D printing tool perfect for students. Models coming in at a price less than 10 percent of most full size printers on the market. What was even better was that it promised the ability to free hand print versus the normal necessity of creating a virtual model before handing it to the machine. It was perfect for the unique music classroom I called home. So I backed the 3Doodler Pen and waited anxiously for its arrival.
When it finally hit my door step I realized the machine itself resembled the same basic principle of workings to that of a hot glue gun. Melting down the plastic rods and reforming it into the desired shapes being drawn. After playing with it myself for a bit, I created a rudimentary design of a 5 key piano using the 3Doodler and then hooked it to my Makey Makey kit giving it sound. A great first project for a beginner like me.
When I finally brought it into the classroom I had to think how to best implement and use it where my students were getting the most educational value from the product. I could explain how it was used in two distinct ways, creating visuals myself and having students build projects.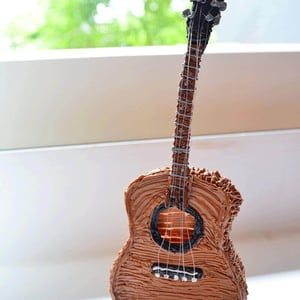 The big pro to this printing pen is that the creations become finished in mere seconds, depending on the complexity of the piece I was making. Talking about sound waves, tempo and dynamic markings, or even simple notation could be brought to life in a short time. Instead of just drawing them on the board in marker, I could have them jump off the page and into students hands. Being able to pass a quarter note around meant so much, especially to the physical learners in my classroom. I was able to reach another type of learner within the short 45 minute lessons I had allocated with them each week.
Getting students to build projects was a more daunting task. With only one pen I could only have a small group doing it at one time, so I turned it into a center in my classroom. This potentially could have been called a "Maker" area, but I hadn't researched enough into that area yet, so it was just called the "Building" area.
In this place they had a common goal or question that was the main focus. These could have been things like:
A woodwind instrument needs what to make sound? Can you build one?
Take a look at the grand staff on the table. Label those lines and then create a 4 note melody. How many ways can you move those notes around to create more music?
I want you to build a percussion instrument, a brass, and a woodwind. All have to be able to belong in a jazz band.
Questions like this get students to think and problem solve. They are exploring the question or goal to its full boundaries while getting interactive with it.
3Doodler Pen is part of an educational revolution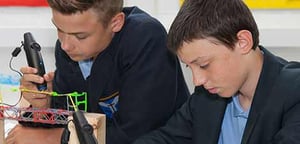 The 3D printing revolution in education has begun to meet students where they are, very visual and hands on. We are bringing back problem solving, critical thinking, executive function development and more through the power of making. In music, it gives us the ability to function off of the page and into the hands of the students, giving them a physical manipulative to hold and explore.
With the 3Doodler, creating these manipulatives became almost instant. Doing it in front of the students added a level of whimsy and engagement that they would not have gotten if I had created everything ahead of time. It does take a level or practice to be able to get the quality of product that one would want to get out before showing their class, but the level of getting to know it is just the same length of time as a normal piece of technology.
The 3Doodler Pen was a fantastic addition to my music classroom. It added a new level of technology that they students had not experienced yet and gave them opportunities they will never forget.
---
Do you have any experience of 3D printing in the classroom? Let us know in the comments below!
Image sources: 3Doodler, Alex's Technological Learning, NIU Today
Stay informed with notifications from All3DP.
You get a notification when a new article is published.