Looking for information on 3D Systems? We've accumulated the most important facts in this company profile.
11 Facts on 3D Systems
1. Full Name
3D Systems, Inc.
2. Company Information
With an international reputation for being one of the most powerful forces in the 3D printing industry, 3D Systems offers advanced and comprehensive 3D design and fabrication solutions across. Their machines and services aim at a variety of different professional levels. The ecosystem of products and services delivered by the public company provides specialist expertise within numerous sectors, and with a large international presence (and workforce), the company's expansion has been ongoing since the 1980's.
3. History
3D Systems enjoys a long-standing heritage within the additive manufacturing realm. Founded in 1986 by the alleged inventor of stereolithography (currently CTO and former President), the company's history involves producing and commercialising the world's first SLA and SLS 3D printers. These achievements, along with developing many of the standard processes used across most 3D printers today, very much place 3D Systems in the industry spotlight: a position that the company rightly strives to retain.
From these sturdy foundations, 3D Systems launched an acquisitions program in late 2001 that expanded the company's technology offerings through ownership of software, materials, printers, content – and most notably, the knowledge of those individuals that the company collaborated with. By consolidating so many products and services under one brand, 3D Systems has efficiently become an industry leader, despite its extremely high rate of expansion. The company now has 25 offices worldwide, valuable company stock, and even a keen celebrity / public / consumer presence across contemporary culture.
4. Products
It's difficult to highlight the most important products from a company whose influence is so wide-reaching. 3D Systems has a key presence in a number of different sectors, and within each, their product offering is notably important.
Cubify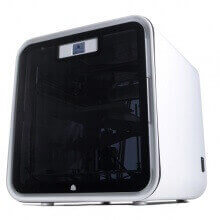 In addition to standing as a desktop 3D printer model option in itself, Cubify is a consumer platform for 3D printing and support. From designs, printers, scanner and software, the website (and app) provide almost everything that the average enthusiasts / consumer requires to get 3D printing.
While the consumer 3D printer Cube 3 was discontinued, the model "Cube Pro" still is on sale.
ProJet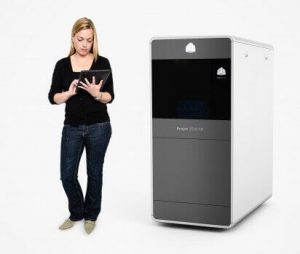 As a multi-jet printer, the ProJet series deposits layers of melted plastic to form a prototype. Specific settings for high definition and speed are quality features of the machine – in particular, the ProJet 3500 HD Max is looking like a great industrial option for 2016.
Cimatron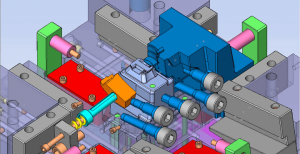 Software is an essential part of the 3D printing ecosystem, and 3D Systems' offering in this arena is just as strong as expected. With the completed acquisition of established company Cimatron taking place in early 2015, it will be interesting to see how 3DS will develop the product suite, which offers integrated solutions for various industrial design challenges.
5. Founder
Chuck Hull, 1986.
6. Current CEO
Interim CEO Andrew Johnson, after Avi N Reichental.
7. Employees
1001 – 5000.
8. Headquarters and Address
3D Systems, Inc.
333 Three D Systems Circle
Rock Hill, SC 29730
USA
9. Email & Telephone
Email: http://www.3dsystems.com/contact
Telephone (US): +1 803-326-3900
10. Website
11. Facebook & Social Media
License: The text of "3D Systems: Company Profile in 11 Facts" by All3DP is licensed under a Creative Commons Attribution 4.0 International License.
Subscribe to updates from All3DP
You are subscribed to updates from All3DP
Subscribe
You can't subscribe to updates from All3DP. Learn more…