After extensive investment in 3D printing, Lockheed Martin is now building multi-printing units for simultaneous additive manufacturing.
Lockheed Martin is the epitome of modern military and aerospace engineering, designing and producing state of the art products that operate in the absolute limits of our physical capabilities.
For a company that mainly deals with innovation and pioneering applications of new technologies, 3D printing was never going to be absent from its manufacturing processes.
Indeed, Lockheed Martin already utilizes over one hundred 3D printers for the creation of prototypes, tooling, and flight-ready parts.
There are several reasons why Lockheed Martin prefers 3D printing over traditional manufacturing methods:
Greatly reduced part production times, which is as high as 80%;
The reduction of part weights through smart geometric designs, with savings up to 40%;
Proven reliability in demanding conditions;
Most importantly, the potential to make their manufacturing even more efficient in the near future.
For example, a spacecraft fuel tank made out of Titanium — which is one of the hardest metals available — took Lockheed Martin 18 to 20 months to manufacture in the past.
Now, using a huge Sciaky 3D printer with EBAM (electron beam additive manufacturing) technology, the tank can be realized in just two weeks time using titanium powder inside a vacuum-atmosphere printing chamber.
Moreover, Sciaky's build quality capabilities ensure a high level of microstructure and mechanical properties consistency which is critical for components of this kind.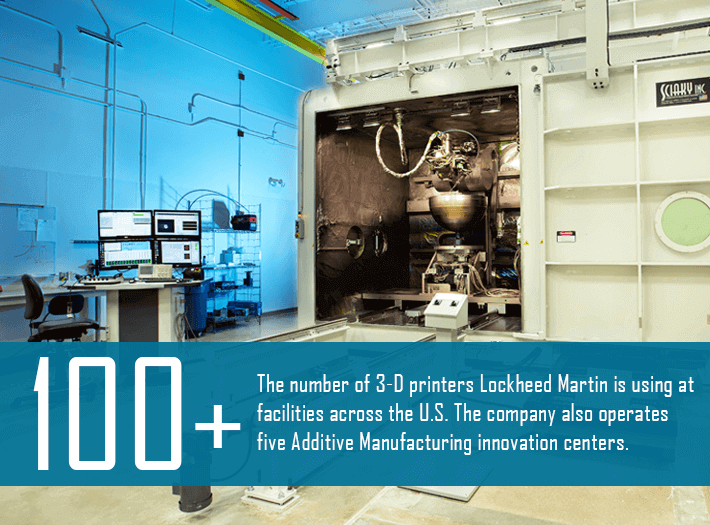 Lockheed Martin sets up Multi-Robotic Cluster
These parts are not just sitting on Lockheed Martin lab benches awaiting for approval; they're already out in space getting tested in the most true and unforgiving way.
Several of the 3D printed parts produced in Sciaky printers are used in spacecrafts that are currently traveling in our solar system.
More specifically, there's a 3D printed pressure vent used in the Orion spacecraft, and eight 3D printed brackets that have been successfully helping Juno reach Jupiter for four years already.
Lockheed Martin are able to take things one step further, with the setting up of robotic clusters for simultaneous additive manufacturing. This further reduces production times and opens up the way to laser dimensional and thermal measurement that ensure a high-quality result.
Right now, the number of robotic arms that can perform concurrent manufacturing operations on one part is three. The total cost reduction by using these systems against traditional methods reaches up to 48%.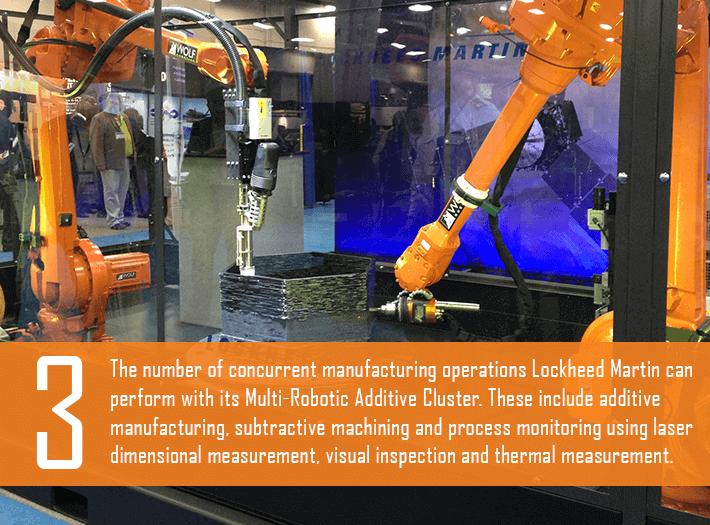 License: The text of "3D Printing Takes Off at Lockheed Martin" by All3DP is licensed under a Creative Commons Attribution 4.0 International License.
Subscribe to updates from All3DP
You are subscribed to updates from All3DP
Subscribe
You can't subscribe to updates from All3DP. Learn more…