Raoul Leering, head of international trade analysis at ING, believes that 3D printing could erase a quarter of global trade by 2060.
A couple of years ago, the 3D printing market was surrounded by an insurmountable amount of hype. While many were left disillusioned after their Star Trek-like fantasies never came to fruition, the technology has continued its march to conquer the manufacturing world.
Raoul Leering, head of international trade analysis at the Dutch bank ING, believes that this global takeover is imminent. He recently wrote a report stating that, if 3D printing technology continues to progress, it could erase a hefty portion of the global trade market.
Leering provides both a conservative and ambitious estimate about how 3D printing will impact on global trade. If the technology undergoes a boom, local additive manufacturing capabilities could diminish global trade by 40 percent by 2040. This guess uses the "acceleration scenario," assuming that investment in 3D printing is doubled every five years.
If it continues to progress on the current path, the report expects that one-quarter of this market would be eliminated by 2060. Although this is a more reserved estimate, it would still create major repercussions for the global trade market.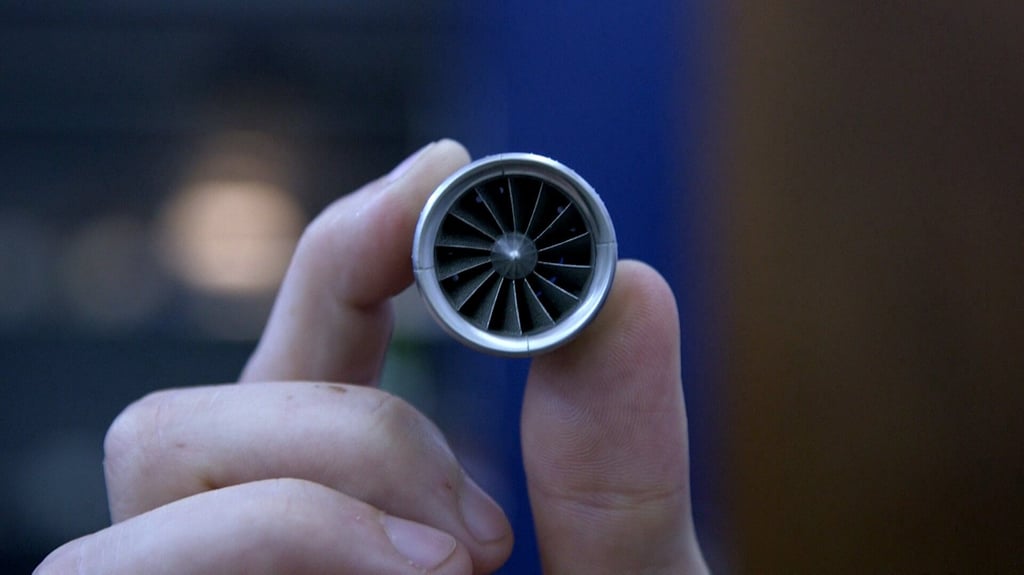 How 3D Printing Will Change the Global Trade Game
In the near future, 3D printing technology could reduce labor and also do away with the need to import goods from low-wage countries. In turn, that could cause narrower trade deficits for major importers, and also negatively effect countries with a trade surplus.
This may seem like good news for those of us in the additive manufacturing field. But, the report states that 3D printing could radically transform global supply chains and threaten levels of trade growth. ING stresses that the technology is still in its infancy stage, primarily used for prototyping or small-run manufacturing.
But Leering cautions that this will change over time. The ING report notes that the annual growth rate for investment in 3D printing over the past five years has been 29 percent. This is a stark contrast from investment in traditional machines, which only saw 9.7 percent growth.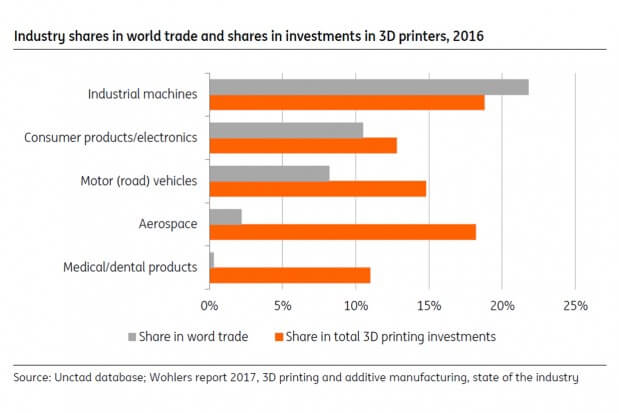 Regarding 3D printing technology, Leering believes that it will "have a negative influence on certain sectors like transport, logistics and harbours, everything that has to do with the cross-border distribution of goods, which makes certain countries like the Netherlands, Hong Kong and Singapore vulnerable."
However, countries with looming trade deficits, like the United States,will benefit from these changes. The ability to locally produce products that are usually imported could reduce deficits. While the ING report may seem to be giving bad news to certain industries and regions, the world economy as a whole is expected to benefit.
Whether the expected growth ends up being steady or explosive, the global trade industry will have to prepare for changes. The report expects the most impacted industries to be automotive, industrial machinery, and consumer products.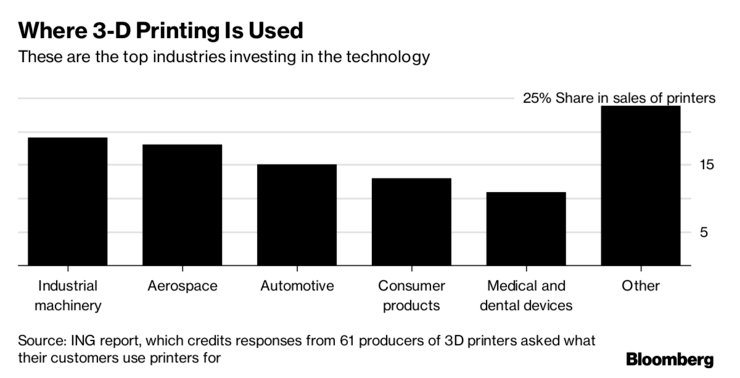 License: The text of "Could 3D Printing Replace Global Trade in the Near Future?" by All3DP is licensed under a Creative Commons Attribution 4.0 International License.
Subscribe to updates from All3DP
You are subscribed to updates from All3DP
Subscribe
You can't subscribe to updates from All3DP. Learn more…