3D printing brings major improvements to facial reconstructive surgery, helping to better recreate a patient's face after serious trauma.
Doctor Laurent Lantieri is a facial reconstructive surgeon working at Georges Pompidou Hospital in Paris, treating only patients with the most serious of injuries. His work revolves around making his patients look as close to their original selves as possible. In 2010, he led the world's first full face transplant.
More recently, Lantieri has been working with Materialise to produce implants which are identical to a patient's original facial bones. First, Lantieri 3D scans a patient's face using a 3D CAT scanner. Next, clinical engineers at Materialise use the scan to create a 3D model and then 3D print the implants to replace the damaged bone.
Prior to 3D scanning and 3D printing, this was an extremely laborious task. Lantieri would spend hours searching for the right implant for patients. "Before we were just guessing, trying to do it with the CT scan and using standard material," he explains. "It was complicated, we never had the correct, perfect shape."
Today, this long process is transformed into one which provides titanium plates and patient-specific implants which are a superior match.
3D Printing for Facial Reconstructive Surgergy with Concept Laser Printers
A major benefit of using additive manufacturing is that no matter what shape Lantieri needs to work with, it's possible to print. Even the most spiky edges are possible to create using industrial 3D printing machines from Concept Laser.
After the design process ends, Lantieri measures and approves a prototype before final printing. He says:
"In the past, I was just guessing… We never had the correct shape. But using 3D printed skulls — to have them in my own hands — to determine what are the difficulties, where are the impediments in advance, it makes a huge difference."
Although the planning process is a lot more time-consuming than previously, it has major benefits such as speeding up facial reconstructive surgery. As well as this, Lantieri is completely prepared when he walks into the operating room with the titanium implants, no matter how complicated the part.
After printing, it's possible to quickly match the parts with screws which come in specialized kits, Lantieri adds:
"The OR nurses love them… They just have to open the box and we have all the different elements in order of use. No more boxes. We save time because we know exactly what we have and where it goes. Everything is exactly what I want and what I need for each step."
Source: GE Reports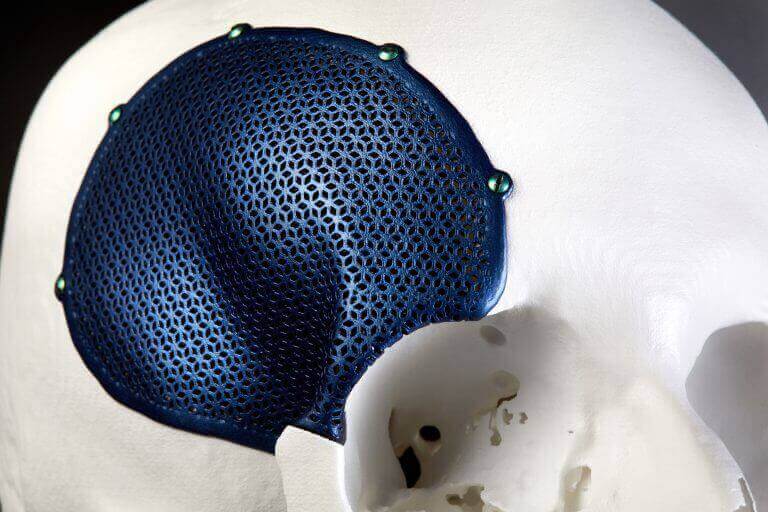 License: The text of "Revolutionizing Facial Reconstructive Surgery with 3D Printing" by All3DP is licensed under a Creative Commons Attribution 4.0 International License.
Subscribe to updates from All3DP
You are subscribed to updates from All3DP
Subscribe
You can't subscribe to updates from All3DP. Learn more…