Terminator Genisys has fans talking. The 5th installment tries to reboot the franchise and aims at a younger audience. Not everyone's happy with that. Critics say that the story complicated and relies heavily on effects. Also, an aging Arnold Schwarzenegger is surrounded by newcomers (Jason Clarke, Jai Courtney, Lee Byung-hun, J.K. Simmons, and Emilia Clarke).
Anyway: In celebration of all things robot-related, we decided to feature some of the coolest 3D printed Terminator items we could find on Thingiverse. From the fully functional to the downright amazing, this short list shows you what 3D printer can do!
Most of the following designs are pretty sophisticated. If you 3D printing beginner, you can order these items through an online 3D printing service of your choice. If you want to get the best price, please visit our 3D Printing Price Comparison.
3D Printed Terminator Arm Replica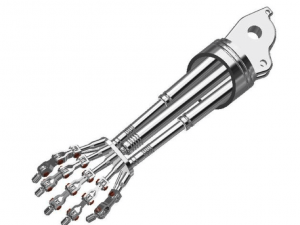 Being one of the coolest 3D printed Terminator props, this project by Maker Darren Aldred (a.k.a. Dazvette) gets extra points for style. Imagine the look on your friends faces when they see the arm sitting on your desk or mantle. Created using Autodesk Inventor, this project is for the serious 3D printing enthusiast. It can be printed in just one go.
T-800 Terminator on Base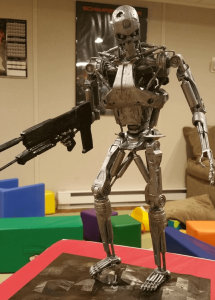 This is just a great build of a highly detailed T-800 terminator. It consists of over 30 items you print out and assemble yourself.
But Beware: Thingiverse member Kazolar notes the difficulty level of this project. He warns that the project "is not for the faint of heart," and we see why. Look at all the detail on the 3D printed Terminator! Although he did not create the original files for his Terminator exoskeleton, he did create printable STL files for fans of the movie to download.
As some party are delicate, you might even consider downloading the files and have them printed professionally. Maybe you should for a steel option?
T-800 Smooth Terminator Exoskull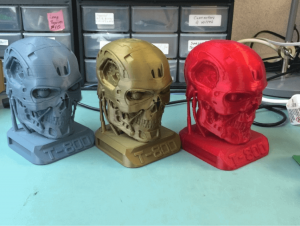 Aiming for the head? You might want to look at this piece. Among the various designs found on Thingiverse, the T800 Exoskull with base is a true conversation piece.
Print it small or large, it's the type of movie memorabilia you don't want to miss. Machina noted that all models came from Machina Corp X30 and X34 3D Printers with Natureworks filament from Ultimachine and ColorFabb.
Terminator Battle Damaged Bust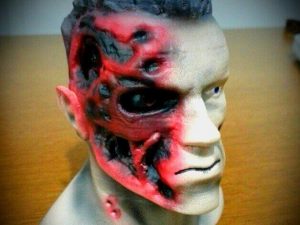 What's more awesome than a 3D printed Arnold Schwarzenegger Terminator bust? Not much! Incredibly lifelike and almost creepy, see how many people you impress with your 3D printing skills by downloading this project.
Of course, this bust has to be treated properly to look best. You can print it out in PLA or ABS and then color it yourself.
T-800 Terminator USB Hub Compartment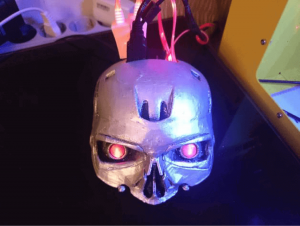 Skynet is all about networked computers. And this 3D printed terminator skull is all about transferring data from any peripherals to your computer.
Perfect for the home or office, this 3D printed Terminator USB hub puts the 'FUN' in functional. Think about just how many gadgets you use throughout the day.Oh, and you can charge your items from here, too.
Image sources: Thingiverse
License: The text of "3D Printed Terminator Genisys Items are a Hit with Fans" by All3DP is licensed under a Creative Commons Attribution 4.0 International License.
Subscribe to updates from All3DP
You are subscribed to updates from All3DP
Subscribe
You can't subscribe to updates from All3DP. Learn more…