An enterprising employee from SparkFun Electronics built a 3D printed tattoo machine, and then gave himself a wonky tattoo.
SparkFun Electronics is an electronics retailer based in Colarado, USA. The company has shared a video tutorial on building a 3D printed tattoo machine, dubbed the Scratchr.
The project is the brainchild of SparkFun employee Nick Poole, who 3D printed the enclosure for the power supply in just over an hour.
Poole also designed and printed a slot for a square nut to fit into. This was to mount the thumbscrew for the needle tube.
Check out the video below, where you can see Poole put his tattoo machine into action… on himself!
How to Build your own 3D Printed Tattoo Machine
Amazingly, Poole managed to tattoo his own forearm. Despite a few wobbly lines, he says he's happy with the results.
"The 3D printing itself wasn't all that exciting for this project," Poole explains. "The working machines were printed from PLA, because that's what I had on the printer at the time, but ABS might work even better."
He also points out that the electronics for this project are pretty simple. He used a SparkFun Pro Micro to feed PWM signals to the TB6612FNG Breakout Board based on inputs from a Rotary Potentiometer and a Foot Switch.
The motor is a Micro Gearmotors in an Actobotics Enclosure and it worked perfectly throughout the tattooing session.
He said: "I had fun doing this project and I've since gotten a lot of compliments on my tattoo. It's not professional-grade, but I know that I made it myself and that feels pretty good."
If you agree with Poole and fancy building your own tattoo machine, he has uploaded all the files you will need on GitHub.
However, he is quick to warn that tattoos are permanent and very difficult to remove…
Source: Spark Fun News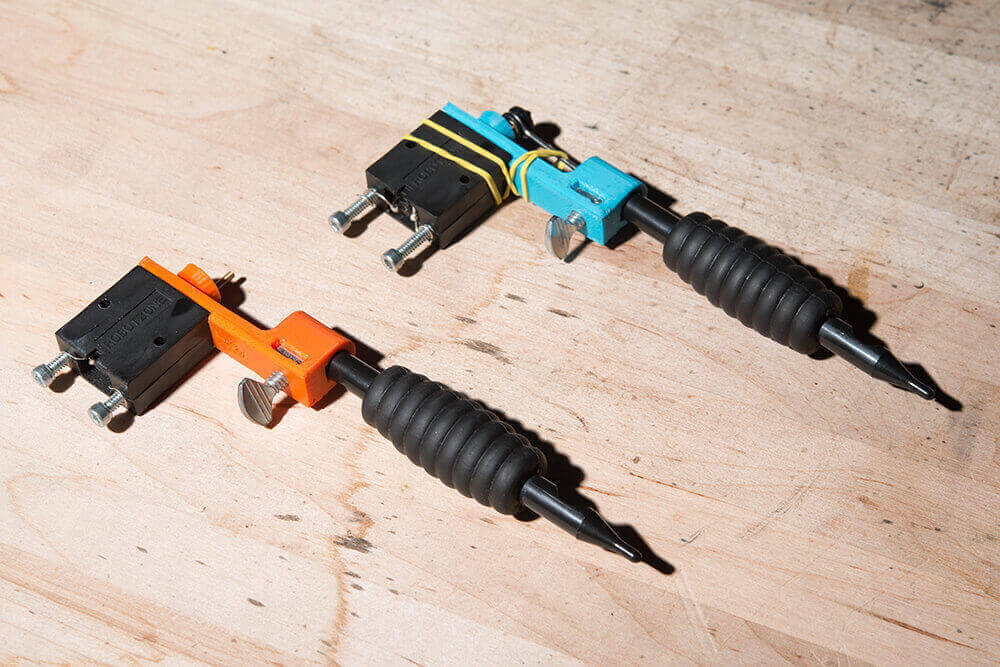 License: The text of "3D Printed Tattoo Machine: Don't Try This at Home?" by All3DP is licensed under a Creative Commons Attribution 4.0 International License.
Subscribe to updates from All3DP
You are subscribed to updates from All3DP
Subscribe
You can't subscribe to updates from All3DP. Learn more…