3D printing is being used to help the visually impaired read music notations more easily.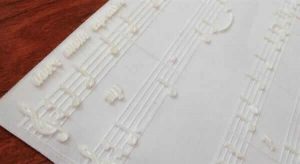 Currently, blind musicians have to read complicated Braille notations then memorize parts at a time which can lead to intricacies being missed out.
However, students of the Mechanical Engineering Department at the University of Wisconsin, have been working on a system called "Tactile Stave Notation". Using an SLS 3D printer, they 3D printed a page of sheet music with the lines, clefs, paises and notes slightly elevated, so that visually impaired musicians can "feel" the music with their fingers.
The team have been working with former University of Wisconsin doctoral student Yeaji Kim to develop a universal system for helping the blind and visually impaired to better read music notations.
Yeaji Kim is a visually impaired musician herself. She was inspired to develop the system in order to offer young musicians a chance to better understand sheet music and to be able to better communicate with their music teachers.
How Does Tactile Stave Notation Work?
Tactile Stave Notation s 3D printed sheet music with the notes and staff slightly elevated from the surface. This allows blind music students to feel this and tactilely connect to the same notes that their teachers are seeing.
Todd Welbourne, a piano professor at the UW-Madison and Kim's instructor while she was there, said: "The (Braille) letter system is already very complicated. And then to have the symbols also mean something else, to mean music, can be very confusing to a kid."
With Tactile Stave Notation, these same visually impaired musicians will be able to learn to play music in the same room as other musicians and be taught by teachers who may not possess extensive knowledge of the Braille system.
A team of undergraduate and graduate students are working with Kim in order to refine the system. Currently, there is no existing software or program to turn regular sheet music into a 3-dimensional format. This means that the engineering students working on the project are truly pioneering.
License: The text of "3D Printed Tactile Stave Notation Helps Visually Impaired" by All3DP is licensed under a Creative Commons Attribution 4.0 International License.
Subscribe to updates from All3DP
You are subscribed to updates from All3DP
Subscribe
You can't subscribe to updates from All3DP. Learn more…