It's possible to create your own miniature robotic version of Dutch artist Theo Jansen's Strandbeest. Besides being mini, this 'beest uses 3D printing and motors rather than PVC pipes and the wind for its locomotion.
An enterprising French engineer struck the social media jackpot on Reddit and Twitter recently with his mechanized octopedal robot. Inspired by the work of Dutch artist Theo Jansen, Nicolas Raynaud's micro-version shares many characteristics with its larger than life forbear.
For starters, they're both mechanical wonders. Making a fluid walking motion look effortless, its a triumph of design. It's also rather creepy, and would give anyone the heebie jeebies on a dark and stormy night.
Artist Jansen developed his Strandbeest project back in the 1990s. A kinetic sculpture, the Standbeest catches the wind whereupon it will start skittering along on its algorithmically designed legs. While the machine has been roaming the beaches of the Netherlands for some time, Jansen is now tinkering with the prospect of loading AI onto the analogue 'beest, to allow it to self correct its course around obstacles.
But enough about the original Standbeest. Raynaud ran with Jansen's art as inspiration for his smaller, 3D printed version. The final design moves in a similar motion. And while complex in its own way, it benefits from ease of assembly made possible by 3D printing.
Create Your Own Strandbeest
There are many 3D printed robot versions of the Strandbeest, including Cguin's Instructable. However, Raynaud opted to design and print the entire sculpture himself.
Firstly, he designed the CAD models of the walking sculpture using 3D design tool Fusion 360. For the black parts of the design — the legs and cogwheels — Raynaud used his own FFF 3D printer. To save time however, he shipped the spine of the machine out for printing at Sculpteo, who printed it using SLS technology.
The original Strandbeest crawler relies on the wind to move. Reynaud's miniature however, does not. When hooked up to a JA12-N20 gearmotor, it has just the right amount of power to move, without tearing itself apart or lumbering to a halt.
If you so wished, you can even make your own! Raynaud uploaded the parts required for his Strandbeest on Thingiverse.
Source: Sculpteo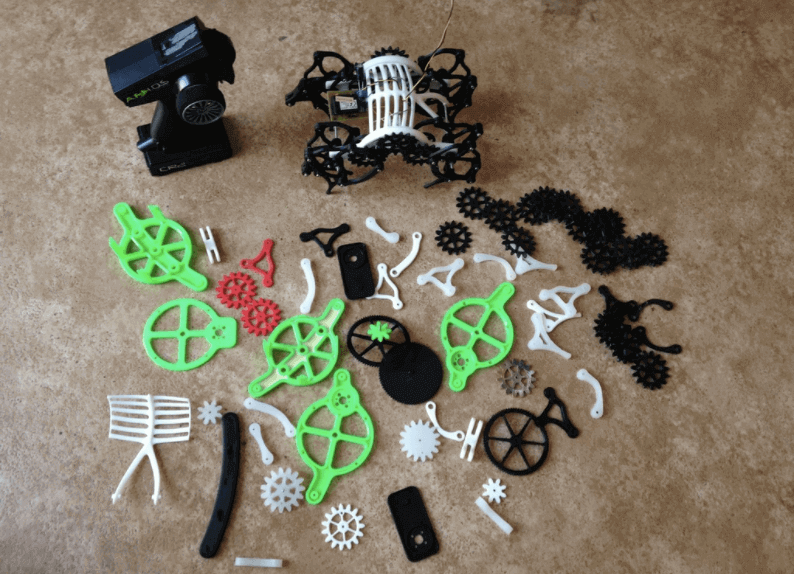 License: The text of "3D Printed Strandbeest Has Motor, Will Crawl" by All3DP is licensed under a Creative Commons Attribution 4.0 International License.
Subscribe to updates from All3DP
You are subscribed to updates from All3DP
Subscribe
You can't subscribe to updates from All3DP. Learn more…