Surgery on a newborn child, unable to breathe, was made possible thanks to a 3D printed skull created by a team at Royal Perth Hospital.
Sophia was born in Princess Margaret Hospital, in Perth, a completely healthy baby, apart from one complication: She couldn't breathe.
Newborns typically come out of the womb screaming, but such was not the case for Sophia. That's because a bone had fused over her nasal cavity, as indicated by computer tomography (CT) scans.
Surgery was the only option. Naturally, doctors were concerned that the procedure would have too great an impact on Sophia's fragile form. Her condition was particularly severe given that she was born relatively small.
To aid in preparing for the procedure, biomedical engineers at Royal Perth Hospital generated a 3D printed skull. Using the above-mentioned CT scans, they were able to produce an exact replica in plastic.
Dr. Jennifer Ha, Sophia's surgeon at Princess Margaret, comments:
"To be able to know what we're going into as surgeons before we get there, it gives you confidence. I was able to explain to Sophia's parents exactly what the condition is, because it's so hard to draw, or for them to visualize exactly what's going on."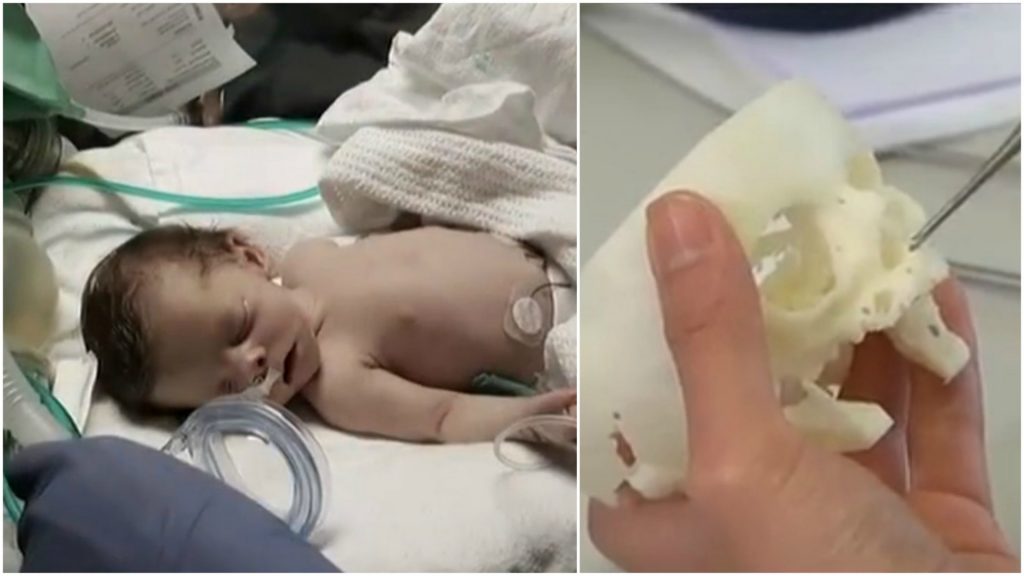 The Complications of Surgery
For babies, a blockage of the nose is a life-threatening condition. Only after approximately 3 to 4 months does an infant develop the ability to breathe through the mouth. Thus, almost immediately after being born, Sophia was put on a ventilator.
"It's not an easy sight when you see a minute-old baby and they're doing compressions on her chest," said Sophia's mother, Brooke Seidel.
3D printed body parts are often used to help with highly complex and risky procedures. Sophia's 3D printed skull enabled Dr. Ha to familiarize herself with the body part before operating.
"Whether the instruments were going to fit in her nose was one of the most important considerations," said Dr. Ha. The surgeon opted for tools designed for use within the ear canal. Conventional surgical instruments were too large.
Despite the possibility she may need further operations in the future, Sophia's doing fine now — a great relief to her parents. Making light of the situation, Brooke had this to say: "Some people cast their baby's feet and hands. Well, we've got her head."
Source: Yahoo7
License: The text of "3D Printed Skull Saves Newborn's Life in Perth" by All3DP is licensed under a Creative Commons Attribution 4.0 International License.
Subscribe to updates from All3DP
You are subscribed to updates from All3DP
Subscribe
You can't subscribe to updates from All3DP. Learn more…